Tweens Read Author Rajani LaRocca on MIDSUMMER'S MAYHEM and What's Next
Submitted by Blue Willow Dig... on Tue, 09/17/2019 - 12:50pm
If you know us well, you know that we have some particular favorite things: Baked goods. Shakespeare. And books, obviously. Kids' books bear mentioning, in particular—we've devoted half our store to children's titles, and host three festivals for young readers each year. Imagine our delight, then, when we first caught wind of Rajani Larocca's debut middle grade novel, Midsummer's Mayhem. It's a kids' book that combines elements of Shakespeare with competitive baking, and it's as funny, sweet, and imaginative as anything you've read lately. You needn't just take our word for it—since it debuted earlier this year, it's picked up accolades along the way... a starred review here, a Kids' Indie Next List selection there, and glowing blurbs from some of your very favorite authors.
We're so excited that Rajani will be joining us on October 19 as part of our annual Tweens Read festival for middle grade readers. You'll have a chance to meet her in person and get your book signed then. But October still feels like it's a long ways off. So for now, we've got the next best thing—an exclusive Q&A with the author below. Read on!
---
Congratulations on your debut! Tell us a bit about Midsummer's Mayhem.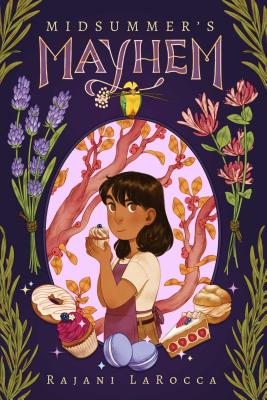 Midsummer's Mayhem is a middle grade mashup of A Midsummer Night's Dream and competitive baking. The story follows 11-year-old Mimi, who wants to win a local baking contest to prove she's not the least talented member of her large Indian-American family. But she loses her best helper when her food writer dad returns from a business trip unable to tell the difference between delicious and disgusting food. Without her dad's help, Mimi doesn't know how she'll come up with a recipe good enough to propel her to gastronomic fame like her celebrity chef idol, Puffy Fay.
Drawn into the woods behind her house by some mysteriously familiar music, Mimi meets a boy, Vik, who brings her to parts of the forest she's never seen before. Together, they discover exotic ingredients and bake them into enchanting treats. But then everyone around her starts acting very strange, and Mimi begins to wonder whether it has anything to do with the ingredients she's used. She needs to use her skills, deductive and epicurean, to figure out what's happened and still try to win the contest. In the process, she learns that in life as in baking, not everything is sweet.
In addition to being a writer, you're also a practicing doctor. You've said that the two are surprisingly similar. Can you break that down for us?
There are lots of similarities between being a doctor and being a writer. Here are a few:
Medicine and writing both have a "years of training sequence." In medicine, it's known and extensive: four years of college + four years of medical school + at least three years of residency training, peppered with lots of exams. In writing, it's unknown but still extensive. I've been writing since I was a kid, and started writing more seriously with a goal of being published since about 2013. It's taken years of reading, taking classes, and attending critique groups, workshops, and conferences to get to this point. And in both careers, I need to keep learning.
Medicine and writing both require a team effort. In my practice, every single member of my health center contributes to caring for our patients. And the process of publishing a book requires collaboration with so many people, including critique partners, agents, editors, artists, book designers, marketing and publicity folks, not to mention teachers, librarians, and booksellers, who help get books to young readers!
People—in all their wonderful, horrible, transcendent, flawed glory—are at the heart of both my professions. As doctor, it's my sacred duty to listen to my patients as they tell their stories in order to help them stay healthy and navigate illnesses. As a writer, it's my sacred duty to create and share stories that reflect on the human experience.
We know you love to bake (as do we!), and your website mentions that it's "hard to beat a really excellent chocolate chip cookie." We have to ask: What are your criteria for chocolate-chip-cookie excellence?
My favorite chocolate chip cookie is soft, chewy, and if possible, still warm from the oven. It has semi-sweet chips and a sweet dough that is just salty enough. Last year, I created a recipe for double-chocolate malted milk cookies which might be the most addictive things I've ever made. You can find the recipe here.
What were some of your favorite books to read as a child?
My all-time favorite childhood book was The Westing Game. I loved the large and varied cast of characters, the central puzzle, and the smart and spunky protagonist, Turtle Wexler. I also loved all of Madeleine L'Engle's books, especially The Arm of the Starfish. I was hugely enamored of The Chronicles of Narnia and read them over and over.
You have a few projects in the works. Can you share anything about your next books?
My debut picture book, Seven Golden Rings, comes out with Lee & Low Books in August 2020. Set in ancient India, it follows Bhagat, a boy who wants to save his family from poverty by earning a place in the Rajah's musical troupe. Seven golden rings are all his family has left in the world, and he needs to find a way to make them last long enough to be successful. The book reads like a folktale and introduces kids to the basics of binary numbers.
I also have some unannounced projects slated for 2021, and picture books with Candlewick and Abrams coming in 2022.
I'm overjoyed to say that Little Bee Books will publish my second MG novel, Much Ado About Batting, in 2021! A companion novel to Midsummer's Mayhem, it's a dual POV story featuring Trish and Ben, 12-year-old math competition rivals who find themselves on the same summer baseball team. This book is also set in the fictional New England town of Comity, MA, and readers familiar with the "Team Sweet" magical folks from Midsummer's Mayhem will get to meet a different cast of characters: Team Salty.
Books:

$16.99
ISBN: 9781499808889
Availability: Usually Ships in 1-5 Days
Published: Yellow Jacket - June 11th, 2019
A Kirkus Best Book of 2019!
An Indies Introduce Selection for 2019!
An Indie Next Pick for Summer 2019!

"A delectable treat for food and literary connoisseurs alike." Kirkus Reviews, STARRED REVIEW

"What a wonderful, intriguing, and magical book. And wow, did it ever get my tastebuds going!
---