Tweens Read Author Kwame Mbalia on Myth, Grief, and TRISTAN STRONG
Submitted by Blue Willow Dig... on Wed, 10/02/2019 - 3:44pm
October is here, friends, and that means it's officially Tweens Read season at the shop. We've been busy prepping for the October 19th event, where you can meet all sorts of your favorite authors, like Jason Reynolds, Jon Sciezska, and Julie Murphy. It's also a great place to discover new favorites. One of the authors we're most excited to introduce you to is Kwame Mbalia, debut author of Tristan Strong Punches a Hole in the Sky. Friends, this is a great book. It's got humor, adventure, and heart, bound together with a dose of African mythology. If you don't believe us, just ask Rick Riordan—he's publishing the book through his new imprint, Rick Riordan Presents. So you know it's going to be a fun, sometimes-scary adventure you won't be able to put down.
Tristan Strong comes out on October 15th... why don't you celebrate by joining us at the Tweens Read festival and meeting the author just a few days later? You'll be able to ask questions, get your book signed, and maybe even convince Kwame to share a detail or two about the forthcoming sequel. In the meantime, check out our exclusive Q&A with the author below.
---
Congratulations on your debut novel, Tristan Strong Punches a Hole in the Sky! Can you tell us a little bit about Tristan and his story?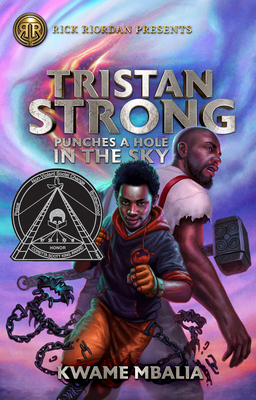 Tristan Strong Punches a Hole in the Sky is a book about a Black boy who, while dealing with grief, is transported to a world where Black folk heroes and West African gods exist. There he must help the two sides bridge their differences in order to defeat an unspeakable evil.
In the book, Tristan encounters figures from African mythology and African-American folklore. Do you have any favorite folktales or myths that inspired you to write this story?
I'd have to say that my favorite folktale is of how Anansi the spider and trickster won Nyame the sky god's stories. Both show up in the book, and the concept of stories being incredible valuable is a key point.
The book is exciting, funny… and it also contains themes of grief and loss. How did you strike the right tonal balance as you were writing?
It was important for me to show how it was possible to carry sorrow and grief while still enjoying life and that's natural and okay. The way that was handled in the book was by including characters who were intentionally, and sometimes unintentionally, funny. (A certain sticky know-it-all comes to mind.) I also wanted to make sure I included the concept of therapy as a way to help cope with these new and heavy feelings, and as a way for Tristan and others who've suffered to regain their own mental, spiritual, and physical balance.
Before you were a writer, you were a pharmaceutical metrologist. What even is that??
Some companies make medicine. They develop and research and test the medicine to make sure it's okay for people to use. I make sure that the equipment they use to make the medicine is working correctly.
Can you share a little about what you're working on next?
I think the most important project right now is the sequel! I was informed (by the same tiny, sticky know-it-all as before) that if I don't hurry up and complete it, my days are "gumbered." :)
Books:

$17.99

ISBN: 9781368039932
Availability: Usually Ships in 4-7 Days
Published: Rick Riordan Presents - October 15th, 2019
Best-selling author Rick Riordan presents Kwame Mbalia's epic fantasy, a middle grade American Gods set in a richly-imagined world populated with African American folk heroes and West African gods.

---