Shawn Harris on Nature, Illustration, and HAVE YOU EVER SEEN A FLOWER
Submitted by blue willow con... on Fri, 04/30/2021 - 2:28pm
Here at Blue Willow, we've been big fans of illustrator Shawn Harris since his beautiful first book, Her Right Foot. Shawn's debut as both author and illustrator, Have You Ever Seen a Flower?, is out on May 4, and we can't wait to share it with all of our wonderful educators, parents, and young readers. Cathy calls it "an ode to the human connection to nature, not to be missed."
We had a chance to ask Shawn a few questions about the new book, his distinctive style, and what's coming next. Check out our exclusive Q&A below, then order your copy of Have You Ever Seen a Flower? from the bottom of the page. If you order before May 4, you'll also receive a signed bookplate, an art print, and a branded seed packet while supplies last!
---
Congratulations on Have You Ever Seen a Flower?, your first book as both author and illustrator! Tell us a little bit about this story and why you wanted to tell it.
Thanks! Well, I love nature, but there's a problem with the word—by definition, it separates us from the rest of the natural world. My book is a handbook, or sort of a guided meditation for people (the best people, kids, who have the distinct advantage of having less to unlearn than adults) that I made to remind myself (and anyone else interested) how to go about plugging back into the source that is nature. My portal of choice? A flower. (They're easy on the eyes, and easy to talk to.) We start by simply being curious; looking, looking closer, smelling. Eventually, we're ditching our shoes and socks, getting grass and mud between our toes. We're growing toward the sun. We're blooming. It's our nature! Try and see.
In Her Right Foot, you used torn paper collages. In Everyone's Awake, you used preseparated ink plates. In A Polar Bear in the Snow, you played with color, light, and shadow. And in Have You Ever Seen a Flower?, you use an incredibly vivid palette. How do you decide what medium and what color palette to use to tell a story?
One of my favorite parts of being a picture book illustrator is doing art workshops with kids; showing them my techniques, and seeing them spark up with this prismatic creative level-up. For that reason, I like to make art with tools that lots of kids have access to. This book wanted to be textured, scribbly, varied, and almost psychedelic in the way colors blend and interact, so I knew my blocky geometric collage style would be too clean.
I remember that mama-I-made-it feeling of graduating to colored pencils from crayons as a kid, and started experimenting with them.
The textures were right, but it didn't really look like MY work yet. I showed some samples to my friend Jon Klassen, and he suggested deconstructing the drawings more. I started cutting geometric stencils out of paper, and scribbling over them, which unlocked that cut-paper familiarity for me, while letting me use all of the great color and texture of the new medium. Thanks Jon!
Did you use a colored pencil set for this or did you need to purchase additional pencils in certain colors (like that pink)?
I cherry picked my pencils—I only used 10 or so to make the whole book, but there were a couple signature stars in the mix, including the neon pink pencil, and the 6-in-1 rainbow pencil.
This is the first book in which you are both author and illustrator. How does that differ from solely being the illustrator, and is there anything you've learned from being an illustrator that you brought to your role as author?
I've had the advantage of getting to read some really well written picture books (that I had the good fortune of illustrating), for thousands of kids, and I'm always taking note where the audience gasps or leans in attentively. There's a conversational narrative quality in this book that's definitely both Eggers and Barnett influenced.
I guess the main difference between illustrating their work and my own is that if I really want to draw a queen bee wielding an enormous sword, I can work backwards and tweak the text until it makes sense to be in the book!
We know you as an author, an illustrator, a musician, a surfer, and the racquetball champion of the Oakland, CA YMCA. What are we missing?
Um, what's left? I put salt on fruit...
How did you get into illustrating children's books?
I've been friends with Mac Barnett since we were 7, so I was just a picture book fan and occasional confidante of his for years. My illustration clients were mostly bands and musicians. One day I got a message from editor Taylor Norman at Chronicle Books (who is now married to Mac) about doing a quick turnaround on some collage samples of New York City and the Statue of Liberty. The author liked them (it was Dave Eggers!), so I dropped everything to turn around the 100 page book (it was Her Right Foot!) in about three months. I barely slept and barely made the deadline. But now here I am!
Do you have any upcoming projects that you can share with us?
The First Cat in Space Ate Pizza, a graphic novel, is currently in progress on my art desk. The story began as a segment in Mac's shelter-in-place Instagram show, Mac's Book Club Show. We combined elements from picture books, puppetry, comics, and traditional animation, which we accompanied with dialogue and sound effects, recording all of it live over a Zoom call. Anyway, Despite sounding really confusing, it was popular, and it's now going to be both of our first foray into the world of graphic novels in summer '22. (You can find updates and all of the shows at thefirstcatinspace.com). I also wrote and illustrated a potty training book that comes out later this year called Doing Business. Here's the cover!
Books: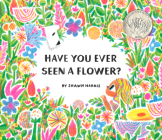 $17.99

ISBN: 9781452182704
Availability: Usually Ships in 4-7 Days
Published: Chronicle Books - May 4th, 2021
A 2022 Caldecott Honor Book

Have You Ever Seen a Flower? is a beautiful exploration of perception, the environment, and humanity.

This enchanting picture book explores the relationship between childhood and nature.
---