Sarah Smarsh on Poverty, Rural America, and HEARTLAND
Submitted by Blue Willow Dig... on Mon, 09/10/2018 - 10:54am
This month, we're lucky enough to welcome journalist and author Sarah Smarsh to the shop to discuss and sign her new memoir of growing up poor in rural America, Heartland. Heartland is Valerie's pick for book of the year (it was also just longlisted for the National Book Award for Nonfiction)—here's a note from her about the book:
This is one of the most important books that you need to read this year to understand what it is like to grow up poor in America. The story is compelling and profound. Because I am committed to getting this out to everyone, we are using a percentage of every book either pre-ordered or bought here in the shop to provide sets of Heartland to Houston family-based ministries so more people can read and reflect on this topic. It is important that they know that their voices can be heard. As of today, we are supporting Family Point Resources and Mission of Yahweh. If you know of other organizations that would put this book in the hands of women, please let me know.

—Valerie
Sarah visits us on September 20—we can't wait to see you there. In the meantime, tide yourself over by reading the conversation between Sarah and Valerie below.
---
Valerie Koehler: Your book really forced me to consider the term "white trash." Intellectually, of course I understand that it's wrong! But it's such a prevalent phrase, and has become thoroughly normalized because of that prevalence. Why do we allow people to say this? And what do you think are the consequences of its use?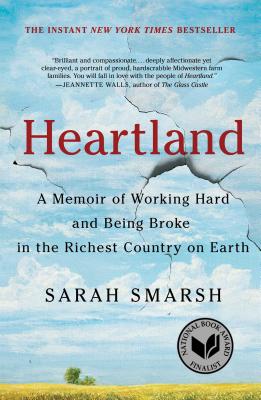 Sarah Smarsh: This term for poor whites or the broader use of "trash," currently a popular insult to anyone perceived negatively, literally suggests that someone is garbage, dispensable. Like many epithets used mindlessly and accepted in culture, people might not even realize what they're saying. Its use degrades conversation, dehumanizes people and puts up yet another barrier to social progress—which is only possible when we honor one another's humanity rather than tear each other down with insults, in this case pegged to low socioeconomic status within the context of whiteness.
VK: The book chronicles your life in Kansas, and your love of the land is palpable. Having walked along the river in Wichita, I know it's a wide open landscape with a big sky to match. What are some of your fondest memories of that land?
SS: My memories are lived every day, because I still reside in the place I wrote about. My favorite thing about the land then and now is actually the immense sky that its flatness creates. Tornadoes in Kansas is a cliche, but also a reality; the colors, smells, and motion of thunderstorms on the Kansas prairie is the most majestic thing I've ever seen.
VK: You've written eloquently about the role of the media in perpetuating stereotypes about rural America and its inhabitants. We're heading into another election cycle where that part of the country will probably be put in the spotlight. What would you like to see done differently, and why is that important?
SS: My biggest hope is that we stop using the term "Trump country," or even "red state" and "blue state." These terms cast entire regions and states as political and cultural monoliths, which obscures the diverse reality of those places on the ground.
VK: You speak to an imaginary, unborn child in the book. How and why did you make that decision?
SS: That conversation was a deep, private aspect of my inner world for much of my coming of age. Toward the end of the writing process, I realized there was still a distance between me and the reader, and that some of the passages weren't clicking together. I realized that both of those issues would be resolved by letting the reader into that dialogue I'd had with a would-be child. It's the one moment of my writing life that felt like a classic creative epiphany—a very happy day!
VK: When we spoke in May, you told me that you wanted to make sure that women who are trying to turn their lives around, or to just build a life in spite of any strikes against them, read your book. What do you want those women to glean from your work?
SS: I hope women who face big obstacles might see something of themselves in the women in my family—not to suggest that my family's story speaks for or predicts anyone else's but simply to offer a sense of validation in a world where so many female stories go untold. Popular culture tends to either exalt women who have immense wealth and celebrity or tell stories of their poor, embattled counterparts with a condescending sense of pity. The women who raised me faced extreme poverty, abuse and other setbacks, yes, but their dignity and humor in those situations is what I most hoped to convey. Maybe that will allow some female readers to feel understood, which is a deep psychological need in the often lonely road of overcoming difficulties.
VK: What your reading now? What's been your favorite book of 2018?
SS: I'm currently reading Democracy in Chains, by Nancy MacLean. Like many readers, I was wowed this year by Tara Westover's Educated.
---
Author photo by Paul Andrews.
Books:

$26.00

ISBN: 9781501133091
Availability: Special Order
Published: Scribner - September 18th, 2018
*Finalist for the National Book Award and the Kirkus Prize*
*Instant New York Times Bestseller*
*Named a Best Book of 2018 by NPR, The New York Post, BuzzFeed, Shelf Awareness, Bustle, and Publishers Weekly*

An essential read for our times: an eye-opening memoir of working-class poverty in America that will deepen our understanding of t
---