Roshani Chokshi on Aru Shah, Writing for Middle Grade, and Hot Cheetos + Swedish Fish
Submitted by Blue Willow Dig... on Tue, 03/20/2018 - 11:55am
Roshani Chokshi rocked the YA world when her debut novel, The Star-Touched Queen, shot up the New York Times bestseller list upon its publication in 2016. Tabbed as an "author to watch" by Kirkus, she hasn't let her foot off the gas since. A Crown of Wishes, the follow-up to The Star-Touched Queen earned more starred reviews as it expanded Chokshi's fictional universe and doubled down on the original's clever nods to Indian folklore. Now, Chokshi is tackling a new challenge: Writing for middle grade readers. Her middle grade debut, Aru Shah and the End of Time, is the story of a twelve-year-old girl who unwittingly frees an ancient demon and has to journey through the Hindu Kingdom of Death. It was chosen to launch Rick Riordan's new publishing imprint, and it doesn't disappoint.
Don't miss Roshani when she visits the store on March 28—we're so jazzed to share this book with Houston readers. Learn more about this exciting young author by reading our Q&A below, then pre-order Aru Shah to reserve your spot in the signing line when Roshani comes to town.
---
We're so excited to meet Aru Shah! Can you tell us a little bit about her story as well as her journey to publication with Rick Riordan Presents?
Aru's story is very much Percy Jackson meets Sailor Moon! I wanted to write a story where the focus wasn't so much on "strong females" but "strong female friendships." I've always wanted to write Aru's story and by chance heard about Rick Riordan Presents at Dragon*Con back in 2016. I was, legit, FROTHING AT THE MOUTH to write this story and was so happy when we got the news (on Halloween! My fave!) that Aru was going to join the RRP family.
Did you find it a challenge to move from YA to middle grade? What, if any, adjustments did you need to make?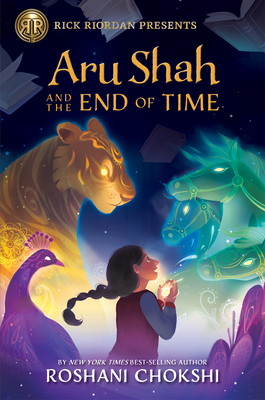 Thankfully, it wasn't too much of a challenge. My inner 8th grader has never left me, so I just had to indulge its demands for hot cheetos and swedish fish and being written specifically between the hours of 8:30 a.m. and 3 p.m. Like a regular schoolday. The biggest adjustment was in the drafting. With my YA, I can throw my brain on the page, come back to it and revise. With my MG, I find that my drafts are a lot more thoughtful because I can't deviate from Aru's voice.
Your YA novels are fantasies and you've listed Holly Black, Catherynne Valente, and Laini Taylor as some of your author inspirations (we love them too!). Why does the fantasy genre appeal to you so much?
I love the fantasy genre because it allows me to explore impossible questions in a fantastical setting. Fantasy is therapeutic and to paraphrase Neil Gaiman, fantasy tells us not that there are dragons in the world, but that dragons can be slayed. So many things can take "dragon-shapes,"—moving away from home, heartache, grief . . . and fantasy consistently reaffirms that we will always end up on the side of light.
Who is your favorite Hindu god or goddess and why?
Manasa. She's not part of the main pantheon, but she has always been my favorite because she fought for people to worship her in spite of her demi-goddess (essentially, mixed-blood) status. She is also the goddess of serpents. Coincidental backstory, but the week before my first book sold, my cousin (who is an independent art curator) sent me a photo of an ancient statue depicting her. I was so taken with the beauty of it because it gave me a sense of peace. A week later, the book sold. Because of her and, let's be honest, my very Slytherin leanings, I find myself with a ton of ophidian-esque jewelry.
Books:

$16.99

ISBN: 9781368012355
Availability: Usually Ships in 4-7 Days
Published: Rick Riordan Presents - March 27th, 2018
Best-selling author Rick Riordan introduces this fantasy adventure by New York Times best-selling author, Roshani Chokshi, inspired by the great epics she grew up on.
Named one of 100 Best Fantasy Books of All Time by Time magazine!
---

$11.99

ISBN: 9781250100207
Availability: Usually Ships in 4-7 Days
Published: St. Martin's Griffin - March 28th, 2017
A lush and vivid story steeped in Indian folklore and mythology, Roshani Chokshi's The Star-touched Queen is a novel that no reader will soon forget. An instant New York Times Bestseller!

Fate and fortune. Power and passion. What does it take to be the queen of a kingdom when you're only seventeen?

---

$12.99

ISBN: 9781250100214
Availability: Special Order
Published: Wednesday Books - March 6th, 2018
From the author of The Star-Touched Queen comes a beautiful lush fantasy, Roshani Chokshi's A Crown of Wishes.

---