A Q&A with Matthew A. Cherry and Vashti Harrison, Author and Illustrator of HAIR LOVE
Submitted by Blue Willow Dig... on Fri, 05/17/2019 - 4:43pm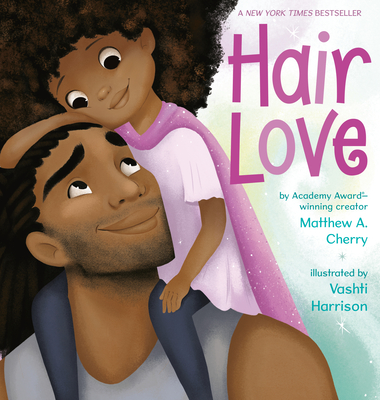 Friends, have you seen the charming new picture book gracing our display this week? It's called Hair Love. Adapted from the animated short film of the same name, the book is a celebration of fathers and daughters—and an ode to loving your natural hair.
It's a sweet and empowering story, and we can't wait to share it with you. What's more, we're absolutely thrilled to welcome the author, Matthew A. Cherry, to the shop on May 21! You may remember Matthew from his time as a wide receiver in the NFL. Nowadays, he's an author and filmmaker—and was named to Paste Magazine's list of Directors to Watch in 2016. Matthew will be joined by our friend (and Bookworm Festival 2019 alum) Vashti Harrison, who illustrated the book and provided character art for the short film.
Check out our Q&A with the creators, then be sure to head to our events calendar for the details—we're looking forward to seeing you!
---
Blue Willow Bookshop: Matthew and Vashti, congratulations on your new book—we love it! How did you decide to adapt the animated film "Hair Love" into a picture book? Can you each tell us about your roles in bringing the story from idea to film to book?
Vashti Harrison: I originally did some visual development work for the "Hair Love" Kickstarter campaign, so I designed the characters with the short film in mind. When I knew it was going to be a picture book I really wanted to make sure it felt different from an animated film, almost like a classic picture book with lots of textures. I wanted to focus on the relationship between father and daughter and of course the hair, so I let everything else fall away—no major details in the background to distract from their story.
Matthew A. Cherry: My role was as the creator of the project, writer and co-director of the short film, and the writer of the book. We started a Kickstarter campaign a few years back for an animated short film and my manager Monica Young suggested that we offer a picture book as one of the Kickstarter gifts. Never in a million years did we think it would be an official book, but now we're here.
BWB: Representation in children's books is finally becoming a bigger part of the publishing conversation. Which books for young readers are you excited about now?
VH: I love regular stories of children of color doing normal things and having adventures. I'm really excited about Rocket Says Look Up! from Nathan Bryon and illustrator Dapo Adeola, Not Quite Snow White by Ashley Franklin and illustrated by Ebony Glenn, and anything Sharee Miller and Vanessa Brantley-Newton do!
MC: I honestly love everything that Kokila is doing. Anytime you can get specific with stories and experiences the better. Everyone deserves to see themselves represented in all forms of media and places like Kokila and Penguin Books are making that possible.
BWB: You both have created so many wonderful projects. What's next for each of you?
VH: I'm working on the next book in my Little Leaders and Little Dreamers collection! More to share very soon!
MC: Working on the animated short film now that we hope to release in theaters later this summer, continuing to work at Jordan Peele's production company Monkeypaw Productions, and trying to book more TV directing work.
Books:

$17.99

ISBN: 9780525553366
Availability: On Our Shelves Now
Published: Kokila - May 14th, 2019
A New York Times Bestseller and tie-in to Academy-Award Winning Short Film "Hair Love"
 
"I love that Hair Love is highlighting the relationship between a Black father and daughter. Matthew leads the ranks of new creatives who are telling unique stories of the Black experience. We need this."
---