Liara Tamani on Signs, Basketball, and ALL THE THINGS WE NEVER KNEW
Submitted by Blue Willow Dig... on Wed, 05/27/2020 - 11:40am
Friends, one of our favorite Houston authors has a new book on the way, and we can't wait for you to read it. All the Things We Never Knew is the second YA novel from Liara Tamani, a dear friend of the shop and general author-you-need-to-read. It stars Carli and Rex, a pair of Texas teens who meet on the basketball court, and it's the perfect thing to help you through these lonesome, sports-less times we've been living through. The book is funny, romantic, thoughtful... it belongs on the same shelf as your well-loved copies of With the Fire On High, To All the Boys I've Loved Before, or The Sun Is Also a Star.
As if that wasn't enough, we partnered with Liara to hook you up with some special swag. If you pre-order a signed, personalized first edition of All the Things We Never Knew from us by June 4, we'll send you a branded notebook, pencil, sticker, pin, and bookmark in addition to your book! Liara will also generously make a donation to the Houston Food Bank for every pre-order placed. We were hoping to host a big event with Liara in the store to celebrate the book's release, but we've had to switch to the next best thing: An exclusive virtual launch party taking place via Zoom on June 12! Attending is easy: Order All the Things We Never Knew from our shop, and we'll send you an invitation to the Zoom event. We can't wait to see you there! In the meantime, check out our Q&A with the author below.
---
Congratulations on your second novel, All the Things We Never Knew! Can you share a bit about the book and its characters?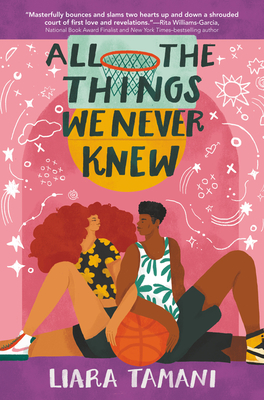 Thanks so much. All the Things We Never Knew is the love story between two Houston-area high school basketball players who fall for each other hard and fast, but experience lots of ups and downs as they navigate their own family issues and secrets.
Rex might be a basketball phenom, but he's endured a lifetime of hurt and loneliness. An only child, his mother died giving birth to him and he's sure his father blames him for it. Guarded, he's never had an easy time making friends, so he seeks communion with nature. But meeting Carli changes everything. With her, he feels all the love he's ever wanted to feel.
Carli is a fierce, artistic girl, who's very curious about the world. Most of her life has been idyllic: two parents who love her and a brother who's one of her closest friends. But her parents are suddenly getting divorced and she and her brother must decide who to live with. To make matters worse, she secretly wants to quit basketball, and has no idea what dream to replace it with. She feels completely lost and looks for signs from the Universe for answers. But the only sign she's gotten lately is the one that points to Rex.
All the Things We Never Knew is a story about first love⎯its messiness, tenderness, and bliss. But it's also a book about family secrets and pain, and two teenagers getting to know and love themselves despite it.
Basketball is a central theme in the book, and the way you write about it rings so true. What does the sport mean to you?
I grew up playing basketball, but like Carli, it wasn't my thing. I played because I came from a basketball-loving family. My brother and dad both played in college. My sister and all my cousins played. And because of my height, 5'11'', my P.E. coach practically made me join the basketball team. I played throughout middle school and high school, and that experience definitely informed the basketball scenes in All the Things We Never Knew.
I was also married to an NBA player and spent 13 years of my life going to basketball games and being immersed in that culture, which even further informed my basketball writing.
In terms of what basketball means to me, it has always been a family affair. Whenever my family gets together, we're watching it on television. My dad, brother, and uncles constantly debate about which players and teams are the best. My nieces and nephews all play ball. My family and I would definitely be enjoying the NBA playoffs together right now if it weren't for COVID-19. And I have fun playing against my nieces and nephews. Sometimes Auntie Li (that's me) has to show them that she's still got it.
Carli believes in signs—and that following them will help reveal her destiny. Do you believe in signs? Why was that an important trait for Carli to have?
I believe in signs, but not to the extent that Carli does. There have been plenty of times in my life when some completely random thing happens or appears that directly speaks to what's going on in my life, and I'm like, Whoa! I don't attribute these rare moments that send chills up my spine to mere coincidence. I consider them from a higher place. I consider them signs or small messages from the Universe.
But I don't look for signs. Carli believes the more she looks for signs, the more she will find and be able to piece together for answers in life. I don't think signs work like that, but I wanted to portray a young girl looking for answers outside of herself. Nobody has all the answers. Many of us look outside of ourselves for direction. But when looking outside of ourselves inhibits us from looking within, it can become a problem. And I wanted to show the power of looking within, in recognizing one's internal light and wisdom, in trusting one's own intuition. It's a theme I find important, and it's been a thread through both of my young adult novels.
At its core, this is a love story between Carli and Rex. But there are a lot of different kinds of love portrayed in the novel: first love, familial love, the love between friends.... Can you share a little about how you developed all those relationships and brought them to life?
Characters and their relationships come alive through dialogue. I love all of the deep conversations between Rex and Carli. I think long talks are one of the best ways to fall in love. Carli and her younger brother, Cole, also have great banter. And Carli has good conversations with her mother, as well. Carli's father is more guarded (we find out why in the book), so their relationship is developed mostly through Carli's internal thoughts. It's also shown through symbolic actions and reoccurring images of all the things she misses about him after he moves out.
Rex's relationship with his father is in the healing process during the book. In the beginning, I work to show the lack of closeness between Rex and his father and Rex's emotional damage due to that distance. I accomplished this through Rex's internal thoughts, imagery, and flashbacks. Toward the end of the book, when Rex's father starts to open up and communicate in pursuit of mending their relationship, I again relied on dialogue. Man, the waves of emotions I felt while writing the hard conversations between Rex and his father! I was literally crying (like tears-running-down-my-face crying) while typing.
We have to ask: What was it like writing the second book? Was anything about the process easier or harder than writing your first?
The hardest thing about writing a book for me is coming up with the initial idea and committing to it. In that way, my second book was harder. I started writing my first novel before I realized it was even going to be a novel. I'd probably written half of the short stories and vignettes in Calling My Name before I was like, Hey, I can make this into a book. But with All the Things We Never Knew, I had to fill many notebooks for many months with other ideas before I found and fell in love with the story and its characters.
That being said, All the Things We Never Knew was definitely easier after I started writing it. With Calling My Name being written in short stories and vignettes, each piece was like a new beginning. Beginnings are hard. I had to work to figure out the deeper meaning, what each piece was about, over and over again. Because All the Things We Never Knew has a more traditional plot, the story and writing flowed.
What does quarantine life look like for you? Have you discovered any great books we should read?
All I can say is I'm glad it's summer! Home schooling was rough. When trying to teach my daughter, I got no work done. And anytime I was working, she wasn't learning at all. I spent most of my work hours preparing for the release of All the Things We Never Knew. I haven't really been writing anything new. And I always feel a bit sad when I'm not in the flow of writing. But I have been filling up notebooks with ideas, and I really like a couple of them. So there's been hope and joy in that.
And there's been reading! Oh, the happiness and peace of enjoying a good book. The Book of Delights by Ross Gay has definitely been a great book for these times. I was enjoying it so much that I started limiting myself to one chapter a day to make it last. I read it first thing in the morning, just before I meditate, and I end my meditation with the prayer that I will focus my attention on delights throughout the day. It's been a beautiful experience. I only have two chapters left, and I'm definitely a little sad about it.
I've also been reading Zadie Smith's Grand Union. What's not to love about Zadie's work? I read everything she writes.
Another book that has been a joy during this quarantine is The Principles of Uncertainty, written and illustrated by Maira Kalman. I love the whimsical nature of the book… the style of its paintings… the way Kalman captures everyday life in such an artistic way and addresses huge life questions, desires, dreams, and fears in such a lighthearted way. It's unlike anything I've ever read before. And it kind of makes me want to start painting again (I spent a year in my twenties painting). I'd be a novice, but hopefully I have many years left on this earth, many years to master new things. You never know.