Kevin Wilson on Family, Weirdness, and His New Story Collection, BABY, YOU'RE GONNA BE MINE
Submitted by Blue Willow Dig... on Fri, 09/14/2018 - 11:00am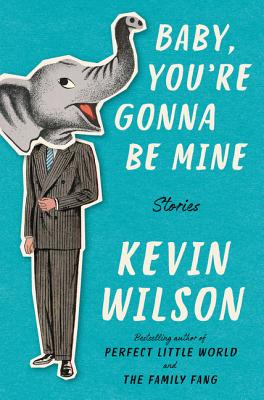 Tolstoy was right: There are innumerable ways in which families can be unhappy, and Kevin Wilson illustrates a chocolate box of examples in his second short story collection, Baby, You're Gonna Be Mine. Each of the ten tales is a perfectly-balanced cocktail, magically pairing bizarre circumstances and complex characters to produce narratives that will knock you flat with their eerie empathy and truth. Wilson's work is witty and melancholic, uncanny and relatable, but above all it is yearning—for connection, for understanding, for love. If you're anything like us, you'll be spellbound by this latest collection from a master of the form.
Two married members of our team are particular fans. When they were relocating across the country a couple of years ago, they took a detour—moving truck and all—to catch Wilson on tour for his second novel, Perfect Little World. Naturally, they were thrilled, and a little starstruck, to pen the questions for our Q&A with the author below.
---
The stories in Baby, You're Gonna Be Mine are perfectly balanced, teetering on the edge of humor and bleakness, zaniness and stark relatability. Is that something you set out to do consciously, or does it just happen?
I do think about it, and try not to let it overwhelm the story, but my mind tends to run towards a kind of humor that threatens to turn dark. So I work with that. You have to work with what you're given, and so rather than try to be more serious, more literary, I try to bend that silliness into something that resonates. When it works, it's really fun. When it doesn't, oh, man, it's bad.
Speaking of zaniness—in both your novels and stories, you build bizarre, sometimes fantastical, circumstances for your characters to explore. Why do you favor peculiar environments?
I'm really obsessed with how we live with weirdness. A lot of times, I think my makeup is such that I don't respond correctly to situations, that really weird events cause me to kind of internalize that weirdness and try to stay upright. So my emotions get muted, and instead of running away from this weird thing, I try to be very polite, shake hands with it, and worry about how I'll deal with it later. And because I'm a nervous person, I'm always trying to think of weird situations, to try and prepare myself for any possibility. So it bleeds into my work.
We love the way you write about family dynamics, both in your stories and in your novels—the relationships you create feel entirely believable, even eerily relatable. What is it about families that inspires you? Is there an aspect of them that you haven't yet explored, but want to?
I think that pretty much all I write about is family dynamics. It's fascinating to me. I'm intrigued by the fact that you are born into this world already attached to other people. And these people shape you, no matter how much you try to assert your own identity. And then, eventually you break free and you become your own person. And maybe then you make some kids, and you raise them, and you're trying to shape them in a way that they might not want. How can you not want to write about that endless cycle?
I write mostly about what it's like to be a child, to try and become your own person, to stand on the precipice of the person that you'll become. And now that I have kids of my own, I write about the anxiety of trying to hold onto a person that will soon transform into something different than you remember. But I haven't much explored beyond that nuclear construction. I wonder if my kids ever have their own kids, I'll write about the anxieties and complexities of being grandparents, or being slightly removed from the creation of a person while also seeing so much of yourself and your own children in these new people. It must be weird. And if something seems weird, I run to it.
How do you find writing a novel to be different from writing short stories? Are you always working on both, or do you concentrate on one form or the other?
I love both, and I'm usually always working on both at the same time. When the novel gives me fits, I go write short stories. When I run out of ideas for short stories, I pick up this novel and try to figure it out again. I like this arrangement.
To my mind, and I say this a lot, but short stories for me feel like stealing a car and driving it into a tree, the kind of momentum and force that lets you make a mess and walk away from it. Novels are more like taking a car on a cross-country trip, realizing all the possibilities that lay in front of you, making choices that send you in a new direction. They're both pleasant feelings.
We love short stories, though they don't always find themselves in the spotlight. Thankfully, that gives us the perfect excuse to seek your recommendations: What are a few of your favorite short stories?
I love short stories, too. And I love them so much that it's hard to choose favorites. But here are a few.
Shirley Jackson's "The Lottery"
Aimee Bender's "The Rememberer"
George Saunders's "Sea Oak"
Claire Vaye Watkins's "The Last Thing We Need"
ZZ Packer's "Drinking Coffee Elsewhere"
Anne Finger's "Blinded by the Light"
Jhumpa Lahiri's "A Temporary Matter"
Can you tell us a bit about what you're working on right now?
I'm working on a new novel about children and spontaneous human combustion. And, I guess like everything I write, it's about how we create family out of what we're given.