Kate Murphy on Algorithms, Loneliness, and the Importance of Listening
Submitted by Blue Willow Dig... on Sun, 12/29/2019 - 1:38pm
In her last newsletter of 2019, Blue Willow girlboss Valerie Koehler passed along seasonal wishes for time well-spent with friends, family, food, and laughter. But also with silence. Valerie wrote, "with silence comes a greater appreciation for the people around us."
It may seem an odd choice for this time of year, but it's something that's been on our minds a lot lately—ever since we finished You're Not Listening, by Houston author Kate Murphy. It's an enlightening read, and it grapples with some of the most serious communication questions we're facing today. Questions like this: How is that, in a world where digital technology makes it easier than ever to "connect," so many people are growing lonelier, less tolerant, and more isolated? We're so excited to be hosting the author here at the shop on January 6 to celebrate the book's release. We hope you'll join us for what we know will be a wonderful evening. In the meantime, check out the Q&A between Kate and Valerie below.
---
Valerie Koehler: You write about listening as a developed skill. That it takes awareness, focus, and experience to unearth and understand what is really being communicated. Is this what you do when you write your conversational pieces for the New York Times?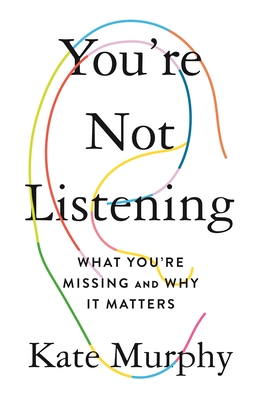 Kate Murphy: It's my process when writing any kind of piece. I have written about a wide variety of topics and for every section of the New York Times, including obituaries. It doesn't matter if I'm interviewing a scientist, CEO, celebrity, or person on the street; it takes a while for people to figure out what they want to say and what they really mean. Listening well requires some patience and a willingness to go down blind alleys but I have never failed to be rewarded. Everyone is interesting if you approach them with genuine curiosity and give them a chance to sort their thoughts and find their voice.
VK: In the book business, we have long touted our experience over the algorithms of our large internet competitor. Your conversation with Matthew Salganik confirms what we have known. We'd like to hear more about how this relates to what we do every day.
KM: As I point out in the book, Charles Darwin's wide-ranging and idiosyncratic reading list could never have been predicted by an algorithm. What would we have lost if Darwin had confined his reading to "Customers who bought this item also bought..."? A book store allows for chance discoveries of books through the recommendations of knowledgable employees and fellow customers, as well as just aimlessly browsing the shelves. I have nothing against algorithms, only the over reliance on them and the failure to realize their limitations, particularly when it comes to our intellectual and emotional development.
VK: The book brings out many points that seem logical and in a way, we already know most of it intellectually. During your research and in the course of writing this book, were you surprised by anything?
KM: Perhaps it's more accurate to say I point out things in the book that ring true. If people already knew these things—intellectually or otherwise—they'd be listening better than they do. Studies show most people miss at least half of what is said to them, no matter how well they thought they were listening. Moreover, surveys indicate nearly half the population do not have meaningful conversations with other people on a daily basis and often feel disconnected from those around them. It's fueling what public health experts are calling an epidemic of loneliness in this country. What surprised me most in the course of writing the book was how seamlessly science backed up what the exceptional listeners I interviewed had to say, including a C.I.A. agent, focus group moderator, top furniture salesmen, priest, bartender, radio producer, and air traffic controller. The degree to which scientific research explained and validated their techniques and experiences was extraordinary.
VK: Grice's maxims for conversation expectations are of quality, quantity, relation, and manner. Do you think this is something we should be teaching in school? It feels like this is a life skill like money management that will serve anyone well.
KM: Indeed, Grice's maxims and other fundamentals of listening that I discuss in the book should be taught and from an early age. Like learning money management, learning how to listen well will save people a lot of grief and heartache later on. I would very much like to see my book made part of the curriculum.
VK: What is your hope with this book? Where should we shelf it?
KM: My hope is that this book will help people discover the value and, frankly, great joy of listening to others. Please shelf wherever the most people will see it, pick it up, and benefit from it.
Books:

$27.00

ISBN: 9781250297198
Availability: Usually Ships in 4-7 Days
Published: Celadon Books - January 7th, 2020
When was the last time you listened to someone, or someone really listened to you?

"If you're like most people, you don't listen as often or as well as you'd like. There's no one better qualified than a talented journalist to introduce you to the right mindset and skillset—and this book does it with science and humor."
---