Journalist, Football Coach, and Novelist Marjorie Herrera Lewis
Submitted by Blue Willow Dig... on Mon, 10/08/2018 - 11:20am
There's something about Texas and football, isn't there? Stories of the game are woven into the very fabric of our state. Just ask Marjorie Herrera Lewis—she's spent most of her career immersed in football, from covering the Cowboys for a variety of outlets to researching and writing her new novel, When the Men Were Gone. The book is based on the true story of Tylene Wilson. She was the first woman to coach a high school team in the state during a time when most men between 18 and 45 were fighting in World War II. Think of it as Friday Night Lights with a girl-power twist, with the added bonus of a compelling World War II-era backdrop. It's a moving story of courage and history, and the perfect gift for the sports fans or historical fiction buffs in your life.
We can't wait to welcome Marjorie to the shop tomorrow night, October 9, for a discussion and signing. Valerie caught up with Marjorie to ask a few questions before the event—read their illuminating conversation below, then pre-order your copy of When the Men Were Gone at the bottom of the page. We'll see you tomorrow!
---
Valerie Koehler: Marjorie, what a remarkable true story about Tylene. How did you go about your research into her life?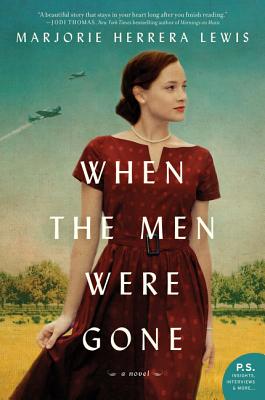 Marjorie Herrera Lewis: This journey began when Tylene's story found me. Tylene's great-niece, Jean, and I crossed paths for 23 years until one day I wore a football T-shirt that caught her eye. In that moment when she discovered I loved football, she began telling me about her great-aunt who had coached football in Texas during World War II. For the next three years—off and on—I did newspaper searches, talked to people in Brownwood, and looked at school district records. Once I realized that but for a number of core truths the story had been lost to time, I went back to college, an MFA program, and studied creative writing in fiction. I wanted to memorialize what she—and three other women, I discovered—had done during that period in our history, so I wrote a novel. This was a seven-year journey.
VK: Many women are big football fans, learning from fathers, brothers, and mothers. You have felt the prejudice through your time as a journalist, coach, and fan. I'm curious: Why do you think it's still considered a man's sport to this day?
MHL: Probably because people don't know what Tylene did more than 70 years ago. She cut a path, was a trailblazer, and then ended up in the dust bin of history. Other than that, I think we're on the brink of change, with a few women entering the coaching ranks in the NFL. I think men are starting to realize that you don't have to be a man to be a student of the game. The biggest prejudice I faced was the fact that I did not play tackle football—though when I was coaching football at Texas Wesleyan University last season, I happily reminded my colleagues that I was a part of the Arizona State University flag football intramural championship team, winning a football title at the highest level available to women at the time! No men on the staff could say the same!
VK: One thing I admired about your book is that you did not spare us the details about the sorrow felt by the mothers who lost children to the war. It must have been so heartbreaking. Was that difficult to write?
MHL: That was extremely difficult to write, especially because I had had a miscarriage and at one point was told by doctors that I may never have a child. I didn't experience the loss of a child to war, but I did experience a burning desire to be a mother. (I have two daughters. Yay.) I also remember my father telling me that the day he caught the train to report to boot camp in preparation for overseas deployment in 1944, he ran into his big brother, who was just returning from his time at war. I couldn't imagine what that must have been like for the two of them, and for their mother and father, who at the time was dying of cancer.
VK: Okay, we need predictions for this college season. We have Longhorns, Horned Frogs, and Cowboys in our house!
MHL: I think you all are in good shape!
Books:

$15.99

ISBN: 9780062836052
Availability: Special Order
Published: William Morrow Paperbacks - October 2nd, 2018
"…Sublimely ties together the drama of high school football, gender politics, and the impact of war on a small town in Texas." – Sports Illustrated

A 2019 One of the Best Books So Far--Newsweek.com
---