Jennifer Mathieu on Bad Girls, the MOXIE Movie, and THE LIARS OF MARIPOSA ISLAND
Submitted by Blue Willow Dig... on Mon, 09/09/2019 - 2:55pm
Are you excited about the new book from Jennifer Mathieu? Of course you are! Let's review the facts: Jennifer Mathieu is a Houston treasure; her last book, Moxie, probably blew your mind two years ago; and, oh yeah, now it's being turned into a Netflix movie... directed by Amy Poehler! Her new novel, The Liars of Mariposa Island, is a powerful, emotional tale—told in three distinct voices—that layers important themes like family, identity, love, and trauma. It's a gripping story, masterfully told, and we can't wait to put it in your hands when it comes out on September 17th.
Pre-order your copy of Liars from us, and email your proof of purchase to liarsofmariposa@gmail.com—you'll get a signed, personalized first edition of the book, plus a bookmark, a postcard, some stickers, and more from Jennifer herself. And don't forget to attend the book's launch party, right here in the bookshop on Saturday, September 21. In the meantime, check out our exclusive Q&A with the author below.
---
First of all, congratulations! This is your FIFTH BOOK! That's crazy pants and we're thrilled for you. Tell us a little bit about The Liars of Mariposa Island. Who are your characters and what inspired the story?
I am forever grateful to Blue Willow for its amazing support of my writing career—thank you!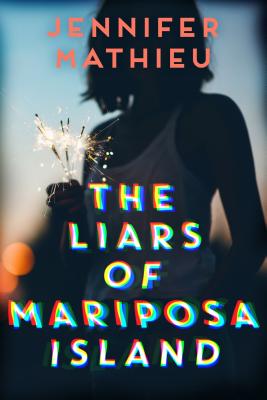 The Liars of Mariposa Island is a book about fierce love between siblings and the lies family members sometimes tell each other to survive. It's about unreliable narrators, plot twists, and deep secrets. The story is set during the summer of 1986 on the fictional Mariposa Island—if you can picture Galveston Island, you've got it. The main characters are teenage siblings, Joaquin and Elena Finney. They're the children of a Cuban refugee named Caridad, who is a controlling and manipulative figure in their lives, not to mention an alcoholic. Elena isn't granted much freedom at all—the only time she is ever really allowed out of the house is during the summer, when she babysits for the wealthy Callahan family that vacations on the island each year. During the summer of '86, however, Elena not only babysits for the Callahans, she falls for a new guy in town—a bad boy named J.C. who may not always have Elena's best interests at heart. Elena's brother Joaquin is also falling in love for the first time with a young woman named Amy, who waits tables with him at a Mexican restaurant, but he can't stop thinking about what life would be like off the island, away from his dysfunctional family. Joaquin cares for his sister Elena so much, but he also believes if he doesn't leave Mariposa Island, he may never have his own life. Included in all of this are flashbacks to mother Caridad's escape from Communist Cuba during the Cuban Revolution. Suffice to say there's a lot going on in this novel, and I couldn't be more proud of it.
When we launched Moxie a couple of summers ago, you told us that Liars would be your most personal—and ambitious—book yet. How was your writing process different for this one? Was anything easier or harder than you thought it would be?
Liars absolutely has ended up to be my most personal and ambitious book yet, definitely. My mother is a Cuban refugee, and while the plot is actually inspired by a radio program (an episode of This American Life) and not my mother's exact story, of course there is still that personal connection. This was my first attempt at historical fiction, so I had to do research on the Cuban Revolution and the mass exodus of unaccompanied minors to the United States during that time period. While I had written in multiple points of view before, I had never jumped through such an ambitious timeline with such unreliable narrators. The idea is that the reader is following Elena and Joaquin's lives while simultaneously learning more about how their mother turned into the woman she became. This is also the saddest book I've ever written, I'll be honest. My other books end with a lot of hope. This book has some hope, but not for every character. I apologize in advance!
Below is a picture of my mom in Cuba as a little girl (along with my grandmother and three aunts). My mom is the oldest on the far left.
You're an amazing high school English teacher here in Houston. How does that influence your writing?
Thank you for the compliment! I think it influences my writing in that it keeps me around the rhythm of adolescence. Just being around teenagers every day, seeing how simultaneously angry and hopeful and funny they can be—it just bleeds into my writing somehow. I'm very fortunate to have my intended readers in my life on a daily basis.
We're so excited for Moxie to appear on Netflix. Can you tell us anything about the status of that project?
I am so excited, too! Lots of folks think that authors are intimately connected to these projects, but the truth is that we are often learning things along with everyone else. I only found out about the Netflix deal the day before it was announced to the media. What I can tell you is that they are apparently in the casting process right now with filming set to begin in October. I'm hopeful I will get to have a set visit. I'll keep you posted!
We saw the amazing denim jacket your editor sent you to celebrate your sixth book, Bad Girls Never Say Die. Is there anything you can share about that book?
I love that jacket so much! I can't wait until the cooler weather so I can wear it. I am in love with this next title, Bad Girls Never Say Die. It just came to me in a rush. This book is a nod to my love of the classic young adult novel, The Outsiders, only it centers on female characters. It is set in 1964 Houston and follows girls from the wrong side of the tracks. There's murder, romance, fierce girl friendships, and lots of action. I've spent all summer researching Houston in the early 60s, including hours spent in the Texas Room at the Houston Metropolitan Research Center downtown. I can't wait to write this one! It will be out in 2021.
What are you reading?
I was recently sent Juliet Takes a Breath by Gabby Rivera and the first few pages have me hooked. Over my vacation earlier this summer I read Last Girl Before Freeway by Leslie Bennetts. It's a biography of Joan Rivers, and I found it utterly fascinating. Rivers was equal parts feminist trailblazer and feminist nightmare. A very complex woman who I ended up having a lot of empathy for. I couldn't put it down.
Books:

$17.99
Email or call for price
ISBN: 9781626726338
Published: Roaring Brook Press - September 17th, 2019
From the author of Moxie comes a stunning novel told in three voices about the lies families tell to survive.

---