Book Bites: Mysteries, Histories, Rom-Coms, & More
Submitted by Blue Willow Content on Fri, 05/26/2023 - 1:04am
Are you ready for summer reading? We sure are — we have our annual summer bingo cards ready to go (bingo starts June 1), a loaded calendar of author events, and even a special new program for all our rom-com fans. The only things missing are some great summer books for your list... but we can help you with that! This week, we're highlighting twelve fresh favorites that we think would be great choices to kick off your season's reading. We've got mysteries, histories, thrillers, rom-coms, and more waiting for you — dig in!
---
Ages 14 & Up
Castle Cove has a reputation for drama and incidents so it is no surprise when one takes place at the annual Sadie Hawkins dance. What does surprise everyone is Alice's discovery of Helen Park standing over the bloody body of Rebecca Kennedy. After being spotted, Park makes a break for it, but Alice is quick on her tail as she calls for Iris' help with Kennedy. While the case appears to be an easy one to solve, Alice and Iris begin to doubt Park's ability of murder. They are, once again, determined to uncover what really happened that night. Highly recommended!
— Ayah
Read because there's really nothing better than a great murder mystery.
Pass if you like your mysteries to be simple and transparent.
Order Your Copy
Adult Fiction
El is stuck in a job she hates, with a passive-aggressive roommate she also hates, so she decides to do a "Wild Year" where she will do one wild thing each month. She ends up buying a house with her unrequited crush, Ray, and their two male friends: newly-heartbroken Will and slightly-more-flamboyant Jamie. They decide to name their new queer compound in the country "Lavender House." The locals are lovely and welcoming, the friends realize they've found a much better home than their awful apartments in London, and there is the required heartbreak and confession of love to Ray — followed by El finally leaving her job, learning to love herself, and ultimately getting together with Ray. A lovely little beach read about taking chances on love and happiness.
— Aerie
Read if you are in the mood for queer Emily Henry vibes.
Pass if you dislike earnest and witty characters.
Order Your Copy
Who is deceiving whom? Sloane, the widow of a senator, and Whit, the new senator in her life, seem to be in love. But are they really? Sloane has lupus, requires hip surgery and a new caretaker. Athena moves in pretty fast. When Sloane starts to decline, Reader hold on, because there is a lot going on in the background. And what is going on with Sloane's foundation that helps build affordable housing? Slick DC folks keep this thriller going to the very end.
— Valerie
Read because this is a fun yet extremely suspenseful ride that will trick even those who pride themselves on guessing twists.
Pass if you are looking for a book to read slowly.
Order Your Copy
Katee — now Kathleen — Rose grew up in the spotlight until a scandal ruined her career. Katee was found cheating on her boyfriend, Ryan, with his bandmate, Cal. Years later, Kathleen meets up with Cal despite her anger for what happened in the past. Harriett, Kathleen's best friend, has written a play with a role specifically for her. While it is hard for her, Kathleen does her best to be professional with Cal for the sake of her friend. However, past events continue to rise to the surface and stir up old emotions and feelings. A second chance romance between childhood friends turned enemies — what's bound to go wrong? Recommended!
— Ayah
Read if you love musicals and romantic leads.
Pass because you're looking to read Sussman's other amazing rom-com, Funny You Should Ask first.
Order Your Copy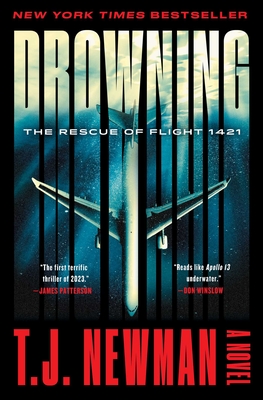 Drowning by T. J. Newman
Flight 1421 crashes into the ocean six minutes after taking off from Hawaii. Standard procedure after a "ditching" SOS from the plane is to get everyone safely off and into life rafts. Is this the safe thing to do with the leaking fuel and high winds? Some think staying on the plane is the safest. As the passengers divide, we find out who is right and for how long.
The suspense is top notch, and the action is interwoven with creative flashbacks exploring the stories of the passengers — readers are not sure who has survived until the last page! Flight attendant-turned-author T.J Newman has hit it out of the park with her sophomore novel. The tension and the humanity of the passengers made this a book I could not put down.
— Christina
Read because it has been a while since you read a thriller full of tough characters, science, and enough danger to make you sweat.
Pass if you're looking for a book to bring on your next flight.
Order Your Copy
An evocative novel that uncovers a little-known part of WWII history. Irene and Dorothy were young women who joined the Red Cross in 1943 and went to Europe as Clubmobile girls along with the troops after D-Day. They drove a repurposed truck that had a galley kitchen where they cooked donuts and made coffee and dispensed comforting words to U.S. soldiers as Patton's 3rd Army stormed across France, Belgium, and Germany. In Urrea's skillful hands, their story moves with increasing tension from an unrealistically light-hearted sense of adventure in the U.S. and England to the hardships they faced once they landed in France and hellish experiences with German soldiers and the liberation of Buchenwald camp. "The boys fight and the girls pick up the pieces," one character notes, but it's clear that both boys and girls suffer from PTSD in the process. This is an exceptionally fine novel that adds a needed dimension to the plethora of WWII novels, bringing to light the heroics of women who served. Recommended.
— Alice
Read if you're in the mood for a powerful story of friendship and heroism.
Pass if you dislike expertly-written books.
Order Your Copy
Millicent is a hopeless romantic who is determined to find her best friend's (Mrs. Nash) lost love, Elsie. Unable to find her until after Mrs. Nash's death, Millicent finds herself booking a last minute flight to reunite her ashes with Elsie. One problem: It's a busy Memorial Day weekend and flights have been canceled. Like many other passengers, Millicent hopes to make the long drive to Florida but also finds no luck there. When things seem impossible, she finds herself joining Hollis, an acquaintance who she also finds stranded, on his road trip. A light and fun rom-com perfect for a beach read — recommended!
— Ayah
Read because this novel will make you feel like you've just been given a long, cozy hug.
Pass if you avoid banter and fun characters.
Order Your Copy
June Hayward and Athena Liu were supposed to be bestselling authors together, but when June's debut tanks and Athena's skyrockets her to fame, June is left with all-consuming feelings of jealousy. A night out unexpectedly turns to bonding, which then unexpectedly turns to Athena choking and dying in front of June. June quietly takes the manuscript for Athena's next novel, rewrites it and has it published under the more ethnically-ambiguous name Juniper Song. When the novel, a book about Chinese labor camps in WWI, gives her the fame and success she always longed for, she easily justifies her acts of cultural appropriation as the only way a white person can find success in the publishing world. The ghost of Athena threatens to undermine her success and expose her, revealing just how far June is willing to go to hold on to fame.
— Aerie
Read if you are in the mood for an addictive, unique, and powerful read.
Pass because you don't think it's possible for Kuang to follow up Babel with an equally incredible book (hint: you're wrong).
Order Your Copy
As they have for generations, the very wealthy leave their homes in New York City to summer in their Salcombe, Fire Island, homes. In this idyllic setting, bikes are the only form of transport (no cars allowed), kids roam freely, and adults enjoy nightly cocktail parties and gossip sessions. Tennis is king and alliances are forged on the courts. But behind the perfect surfaces, darkness hides — and secrets come to light after a body is found off the side of the boardwalk.
— Jean
Read if you love White Lotus.
Pass if you have enough personal drama going on this summer. Maybe check out our journals?
Order Your Copy
On the eve of their college graduation and reeling from the death of a friend, Marielle, Naomi, Craig, Jordan, and Jordy created a pact: In the years to follow, they would reconvene to throw one another "living funerals" — celebrations of their lives and friendships that would leave nothing unsaid. Now, almost 30 years later, it's Jordan's turn… but he's harboring a secret that will change everything.
As he did in 2021's The Guncle, Rowley explores themes of love, loss, family, and friendship with warmth, pathos, and humor. As his narrative crosses the decades, we meet each friend at a time of need or upheaval. It's in how they come together to support and nurture one another that we really get to know these characters. A tragicomic reflection on the power of friendship, with a potent reminder for the reader: To celebrate life.
— Noah
Read because this is another gentle hit from Rowley.
Pass if you loathe humor and hate heart.
Order Your Copy
Graceland by Nancy Crochiere
Three generations of women travel to Memphis for separate reasons in this clever debut novel. The difference in personalities makes this a fun and drama filled summer read, recommended!
— Ayah
Read because this book is full of warm and layered characters.
Pass if you're saving this for your passenger to read to you on your next road trip.
Order Your Copy
Adult Nonfiction
David von Drehle meets his new 102-year-old neighbor Charlie outside after moving his family to Kansas City. The conversations that ensue are inspiring, charming, and life affirming. Charlie lives until his 109th birthday. He was born in the horse and buggy era and lived to see all the technology advances of the 21st century. He was trained as a general doctor and yet lived to be a part of modern medicine. It's a wonderful memoir to share with anyone and damn, I would have loved to have known him.
— Valerie
Read because this is a special and insightful read.
Pass if you believe you have already achieved maximum levels of wisdom.
Order Your Copy