Book Bites: Memorable Memoirs and Fantastic Fiction
Submitted by Blue Willow Con... on Mon, 02/19/2018 - 11:29am
Memoirs your thing? Have we got the book for you. Books, even. A wave of fascinating life stories have hit our shelves in recent weeks; scroll down to get the scoop on three of our favorites. Of course, that's not all we've been reading. Cathy and Jennifer can always be counted on to help find the perfect book for readers of any age. Valerie just finished a great mystery. And Barb absolutely loved the latest novel from Kristin Hannah — it's every bit as good as The Nightingale.
Oh, and have you heard about Teen Book Con? The annual festival for young adult readers returns for its ninth year on March 24, and the 2018 lineup is one of the best yet. Get in the mood by checking out one of our favorite teen releases from last year, and stay tuned for more Teen Book Con reviews in the coming weeks.
---
Ages 3-7
Elmore by Holly Hobbie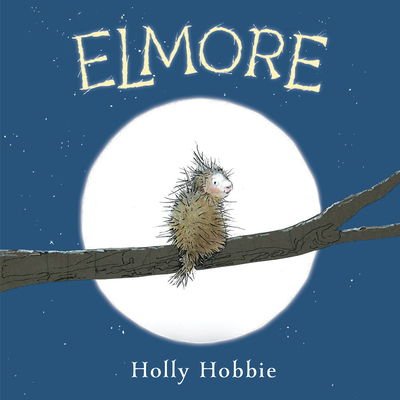 Elmore is a solitary porcupine who longs to have friends, but the other animals in the woods are afraid of his quills. Elmore ingeniously bundles his extra quills and gives them away as quill pens and encourages his neighbors to make ink from berries. Soon notes are flying back and forth across the woods and Elmore has found his community. Lovely.
—Cathy
READ because this new release is just as sweet as Hobbie's beloved Toot & Puddle books.
PASS if you're afraid of flying… notes.
Order your copy on our website.
Ages 8-12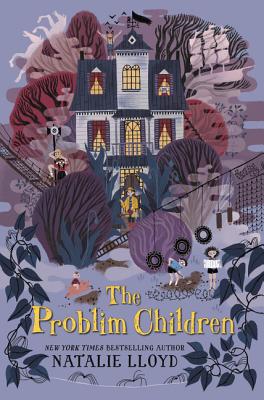 The seven Problim children, each born on a different day of the week and each with distinct and wacky personalities and interests, live seven miles out of town in the Swampy Woods where they lead unconventional lives. When their home explodes, they head into town to live in their grandfather's house until their parents return. There they are met by the villainous neighbor Desdemona O'Pinion, who, convinced there is treasure hidden within House Number Seven, is as determined to purchase the family home as she is to turn the siblings over to the Society for the Protection of Unwanted Children. A whimsical new series about friendship, family, and heart from the author of A Snicker of Magic.
—Jennifer
READ if you've been looking for something to fill that Snicket-shaped hole in your shelf.
PASS if you always thought Count Olaf had the children's best interests in mind.
Order your copy on our website.
Ages 13-18
Caraval by Stephanie Garber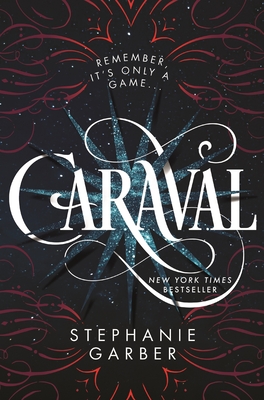 Scarlett Dragna is desperate to free herself and her younger sister Donatella from their abusive father, even if their way out requires her to marry someone she's never met. Her wedding is only a week away when Scarlett receives invitations to Caraval, a magical game that many whisper about but few get to play. She is ready to throw away the tickets and her magical dreams in order to go through with her wedding, but Tella is determined to have an adventure. Scarlett must find a way to save her sister from the deceptive, twisted game, and return in time for the wedding. But nothing in Caraval is as it appears, and as the game progresses, Scarlett's entire life comes into question.
—Madeline
READ if you were a fan of The Night Circus or Stardust.
PASS if you threw away your magical dreams long ago.
Meet the author at this year's Teen Book Con.
Order your copy on our website.
Adult Fiction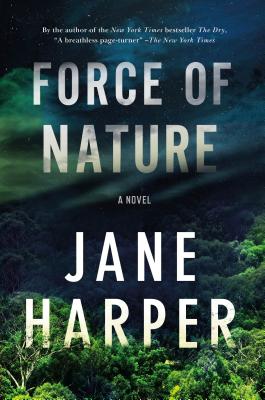 A corporate team-building retreat goes bad when the women's team shows up injured with one of their colleagues missing. The detectives on the case in the remote outback of Australia have been working with the missing woman on a money laundering charge. Who is telling the truth here? This is a great mystery with lots of atmosphere — and lots of potential perpetrators. After reading this, I'm never sending my staff on a team-building camping trip!
—Valerie
READ because you always knew there was something weird about team-building retreats.
PASS if you always got dropped during trust falls.
Order your copy on our website.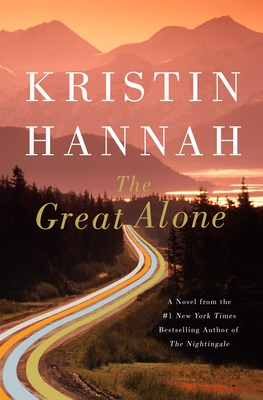 Ernt Allbright is an angry and broken man when he returns home after his release from a POW camp in Vietnam in 1974. With his young wife Cora and their thirteen year old daughter, Ernt moves to a remote village in Alaska and a cabin that has been left to him the will of a fellow soldier. The small family struggles to build a new life together in the harshest conditions imaginable. This is a dark and twisty story, rich in characters, setting and plot. Kristin Hannah portrays the loveliness and the brutality of the Alaskan landscape while integrating the some key events of the time — the Vietnam War, Watergate, Ted Bundy, and Patty Hearst. The author's knowledge and love of the state make Alaska a central character in the novel, and her legal expertise shows the helpless situation of an abused wife in the 1970s. Highly Recommended.
—Barb
READ for an emotional tour de force that grapples with love, loss, and survival.
PASS if you're in the mood for something a little more uplifting.
Order your copy on our website.
Adult Nonfiction
Educated by Tara Westover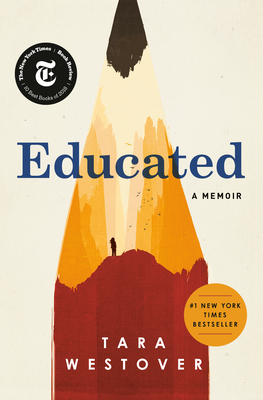 Here is a case of truth being stranger than fiction. Tara Westover was born sometime in 1986 (there's debate about the actual date because her parents did not secure birth certificates for their last three children). Raised by fundamentalist Mormon parents—survivalists, and scary as all get out—Tara never goes to school, never gets vaccinated, never knows the world outside her mountain community. And yet, by strength and help of one wayward brother, she figures out how to escape. She studies the ACT guide to get into BYU. In her first class of Western Civ, she asks the professor what the word under the picture on the screen is and is rebuked—it is "holocaust." This harrowing memoir should be read by everyone. Her journey to Utah, Harvard, and Cambridge is tempered by her acceptance of an abusive brother and delusional parents. It's The Glass Castle on steroids.
—Valerie
READ because this is an unforgettable book that will stick with you for years to come.
PASS at your own risk—this one is really that good.
Order your copy on our website.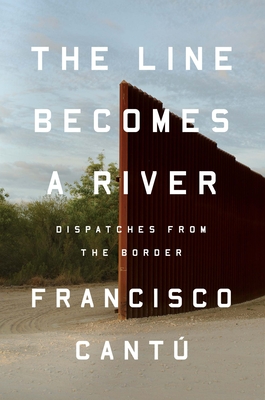 Francisco Cantú tells compelling stories. As he recounts his four-year stint as a Border Patrol Agent on the Texas to Arizona border with Mexico, readers can feel a slow build up of constrained emotion that stems from a natural sympathy with the illegal aliens he met during this period. His family history provided a good starting point for his interest in the socio-political culture of the border. His on-the-job experiences made him realize that the Border Patrol was not for him, and he returned to graduate school to pursue creative writing. Cantú has an empathy for those who repeatedly try to cross into the U.S., looking to escape poverty, lack of opportunity and, more recently, the dictatorship of the cartels who control the drug war zone of northern Mexico. The reader feels oppressed by the same forces that gave Cantú nightmares: the restrictive immigration policies of the U.S. vs. the hope that seems to spring eternal in those who try to cross despite the risks. Cantú doesn't shy away from descriptions of these risks and their often gruesome outcomes. There is power packed into Cantú's storytelling, and there are flashes of a Cormac McCarthy style of spare but kick-in-the-chest writing. I would recommend this to anyone who is interested in reading a realistic and thoughtful account of immigration issues.
—Alice
READ for a nuanced examination of the chaos and emotion on both sides of the border line.
PASS only if you want to miss out on this unique perspective of a timely issue.
Order your copy on our website.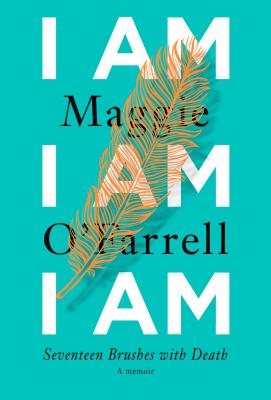 O'Farrell's latest work is a memoir, a fascinating study of human nature. She chooses to tell about her life in a series of stories about narrow escapes she has had with death, from the first account of an encounter with a man who later killed a young woman like herself to her own childhood battle with encephalitis and its lingering effects, a near-drowning, and her daughter's severe anaphylaxis. How can all these life-threatening events happen in one person's life?! Because she's a writer, we are treated to an in-depth picture of what each of these experiences was like: how she got into the situation, how she felt at the time, what the prospect of death meant in the moment and in retrospect. Made me hope that the fact that she has experienced so much cuts the odds of similar situations happening to me! Recommended.
—Alice
READ for a powerful reminder of the magic of life.
PASS if you'd rather be completely left out of your next book club discussion.
Order your copy on our website.