Book Bites: Fizzy Summer Reads
Submitted by blue willow con... on Fri, 05/14/2021 - 1:11pm
Summer reading is back, friends, which means that our shelves are spilling over with bright new literary confections. This week, we want to share a stop-in-your-tracks-gorgeous picture book that will inspire profound conversations. From there, you can take a refreshing dip into some middle grade magic or explore the buzzy new YA novel that's part The Princess Diaries, part Crazy Rich Asians. We also have three breezy reads for adults, plus a wildly entertaining Texas-based family novel that takes its cues from Greek mythology. And finally, a dishy Hollywood memoir with surprising emotional resonance. Shake off your beach towel and stop in for a stack—we'd love to see you.
---
Ages 4-8
Wishes by Muon Thi Van; illustrated by Victo Ngai
A powerful picture book from the very first pages. A young girl looks out of the window into the darkness where a grownup (possibly her father) is packing suitcases. "The night wishes it were quieter." On the second spread, we confirm that this family is leaving, escaping something. This is not an ordinary picture book. The tale of a family fleeing could be traumatic, but in the loving hands of the author and illustrator, it becomes a beacon of hope for all immigrants.
— Valerie
READ because this duo is creating wonderful, stay-on-the-shelf-for-generations picture books.
PASS it to the new parent in your life—they'll be glad you did!
Ages 8-12
Brida is a trainee hedgewitch in a far corner of the Queendom. When her attempts at scrying bring her to the attention of the Queen of Crows she is captured by the Huntsman. She ends up on an unexpected quest, digging deep into her resourcefulness, finding new friends, and discovering hidden abilities.
— Caroline
READ if you're into Shannon Hale or Kelly Barnhill.
PASS if you're the one person on the planet who isn't into Shannon Hale or Kelly Barnhill.
Ages 12-18
Raised by her single mom, Izumi Tanaka has always felt like it's the two of them against the world. When Izzy discovers that her unknown father is actually the Crown Prince of Japan, it all changes. Suddenly, Izzy's on her way to Tokyo to meet the other side of her family and has no idea what comes next. It's The Princess Diaries meets Crazy Rich Asians and it's an UTTER DELIGHT!
—Cathy
READ because this is your favorite YA book's favorite YA book.
PASS if you want to be the one YA reader on planet earth who hasn't gobbled this one up.
Attend our virtual event with the author on May 18!
Adult Fiction
Thea is having a bad month. She's been let go from her job, and her husband of 15 years is having an affair with a mutual friend. She feels completely lost, and when her great-uncle dies and leaves her his cottage in Scotland, she decides to spend some time at the cottage, sorting out his affairs and selling his rare book collection. Of course, she falls in love with the village and its occupants, but finds herself arguing with Edward, the grumpy bookshop owner. If you've read a rom-com before, you know what's going to happen—the joy is in how the story resolves itself, and Fraser does a wonderful job. Happy reading!
— Cathy
READ because, let's be honest, any book about a bookshop is an auto-buy.
PASS if there's no hope of warming your cold, dead heart.
We knew it was only a matter of time before we had a rom com set in a Great British Bake-Off-like reality show, and Alexis Hall delivers. We see this story through the eyes of Rosaline Palmer, who's pretty happy with her life. She loves her daughter Amelie and has figured out a way to make everything work with her found family, which includes her ex-girlfriend, Lauren. In the early stages of the competition, Rosaline finds herself drawn to both architect Alain and electrician Harry. This novel takes a look at classism, fetishization of bisexual women, and parental expectations in a tender, hilarious way. Full of amazing secondary characters, this novel is a delight.
— Cathy
READ because rom coms are awesome and Bake Off is perfect.
PASS if your heart is in fact an empty hole.
Attend our virtual event with the author on May 29.
Poppy is a millennial success story. Her budget travel blog led to a brilliant career at a travel magazine, and she is living her dream with a high-end apartment in New York and all-expenses-paid fine dining and holidays in exotic locations. Alas, the last time she was truly happy was two summers ago on an annual trip with Alex, her best friend ever since a road trip home from college together after their freshman year. Poppy and Alex have almost nothing in common (she works in New York City, he teaches English in their hometown; she's colorful in vintage, he's calm in khakis), but they are each other's best friends come what may. Yet, something happened on their last trip that has left them estranged. Poppy invites him on one more holiday to try to set things right again. An easy-to-digest summer read.
— Jennifer K
READ because this delightful beach read will keep you turning the pages for hours.
PASS if, in conjunction with the empty hole situation, you've also got garlic in your soul.
In this entertaining description of human nature and family relationships we come to understand how little people have changed since the time of the ancient Greeks whose stories about their deities reflect what they experienced in their own lives. But you don't have to know anything about Greek mythology to appreciate the foibles and frailties of the Briscoe family of Olympus, a town just down the road from Houston. In thirty years of marriage, Peter and June have weathered Peter's philandering ways, which have produced as many illegitimate as legitimate children, all of whom have grown up together in the small town environment in which everyone knows everyone else's life stories. Peter and June's second son, March, returns home after a two-year exile following an affair with his brother Hap's wife. Half-brother Arlo, a performing musician, also returns to town, hoping to persuade his twin sister, Artie, to return as his manager. By the end of a week, marriages have broken up, an accidental (?) death has occurred, and there is no indication that things are going to improve going forward. The children's relationships with one another and their parents are fraught with emotional baggage, and visibly so, leading readers to question the nature of love which, in this family's case seems to have so many ill effects. Hmmm, just like the gods and goddesses of ancient Greece.
— Alice
READ because this ticks a lot of our favorite boxes: Family saga; great cast of characters; bighearted; set in Texas… how can you resist?
PASS if you are the very strange reader who could somehow resist those elements.
Adult Nonfiction

Based on John Green's popular podcast, this essay collection contains reflections on everything from Diet Dr. Pepper to the QWERTY keyboard to Canada geese. Each essay is full of Green's signature close observation, humor and poignant reflection. Read (or listen to the audiobook!) in one giant gulp, or take one essay at a time—you won't regret it!
— Cathy
READ because you saw who the author is, right?
PASS this one along as a great graduation or dad's day gift.
Attend our virtual event with the author on May 19!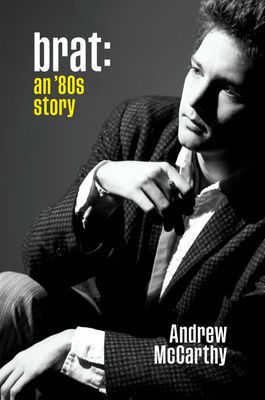 Brat by Andrew McCarthy
Andrew McCarthy, star of St. Elmo's Fire and Pretty in Pink, reflects on the beginning of his career and his association with The Brat Pack, a group of movie stars in the 1980s when teen movies were on the rise. He details his childhood, time at NYU and the beginning of his career. Where he really shines is in addressing his personal challenges: the strain success placed on his familial relationships, his struggle with substance abuse, and the realization that he prefers to work behind the camera instead of in front of it. This isn't a kiss and tell memoir—it's an interesting look at how these experiences shaped McCarthy and his storytelling.
— Cathy
READ for obvious reasons. Who doesn't love Andrew McCarthy?
PASS the popcorn! It's time for a movie night.
Order your copy—for a limited time, we'll send you a link to our virtual event with Andrew from earlier this month!