Book Bites: Bob, Mac, Sarah, Olga, Sarah, and Sarah
Submitted by Blue Willow Dig... on Fri, 09/07/2018 - 1:33pm
If you've been following our blog for long, you know that we usually try to come up with a clever theme that ties together our staff reviews. Unfortunately, all we've got right now is that three of our favorite new releases were written by authors named Sarah. So much for that.
Theme or no theme, the books are magnificent. We've got two hilarious titles for kids by a pair of our favorite authors out there. (Bob Shea reached out after Hurricane Harvey and helped raise over $10,000 to donate to schools and libraries that were impacted by the flood. Mac Barnett is both extremely kind and side-splittingly funny.) Next up, a pair of fantastic works of fiction—one by Texas author and dear friend of the shop >>>Sarah<<< Bird, and the other a fascinating work in translation that's already claimed a Man Booker Prize. Finally, two new nonfiction books deserve a spot on your shelves. One tackles the dark real-life inspiration behind Lolita. The other is a devastating memoir of growing up poor in rural America. Both, for whatever it's worth, were written by Sarahs.
Read on!
---
Ages 4-7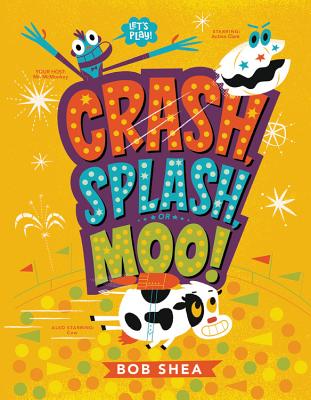 Welcome to a crazy game show hosted by Mr. McMonkey! Action Clam and Cow compete to win a golden banana—and you need to guess whether they will crash, splash or moo on each stunt. A silly, very fun story that will delight all readers!
—Cathy
READ to discover your new favorite literary bivalve.
PASS to not discover any bivalves whatsoever.
Order your copy on our website.
Read a hilarious Q&A with the author on our blog.
Attend our event with Bob on September 18!
Ages 7-10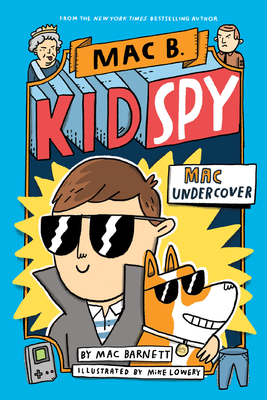 When Mac Barnett was a child, he spied for the Queen of England. No, really, he did. Here are some of the stories of his adventures. The voice in this series is perfect, as are Mike Lowery's illustrations. This series will appeal to so many different kinds of readers who will enjoy laughing aloud while they might actually learn something about Mac, spies, and the world around them!
—Cathy
READ this explosive, lightly-redacted memoir for an inside look at the life of a superspy.
PASS if you're busy █████ a ███████ in the service of Her Majesty.
Order your copy on our website.
Read an extremely serious Q&A with the spy-turned-author on our blog.
Attend our event with Mac on September 11!
Adult Fiction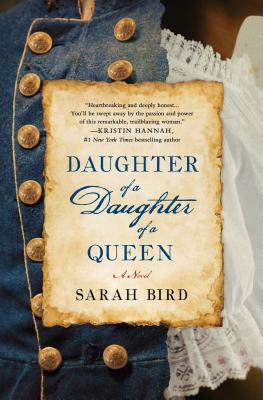 A worthy entry into the canon of strong female protagonists, Bird's new novel imagines the life of a real historical figure, Cathy Williams, a former slave, who, after the Civil War, enlisted in the Buffalo Soldiers disguised as a man. Narrated by Cathy, whose voice will stay with readers for a long time, this novel is part history (well-researched), part adventure (some rather vivid descriptions of the horrors of war and interracial and inter-class violence), and part love story (Cathy falls in love with her commanding officer). Bird has done an excellent job combining historical facts with a credible story of some unforgettable characters in this story of the life of a remarkable woman. Recommended.
—Alice
READ if you're a fan of historical fiction, military fiction, or books with strong female characters. (Plus, it's written by a Texas author!)
PASS if you don't care about supporting the wonderful artists of the great state of Texas.
Order a signed copy on our website.
Flights by Olga Tokarczuk; Translated by Jennifer Croft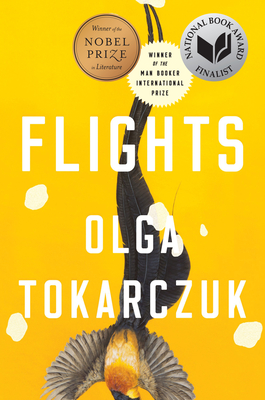 Flights is a multi-genre work of fiction, probably best described as a scrapbook of short stories and brief meditations on a variety of topics, held together by the theme of travel. The narrator describes the people she meets as she travels, discusses various modes of transportation, and tells stories about characters who are in new situations or on missions of some kind that keep them in motion. One of the longer stories (interspersed in installments among the other essays) is about a man whose wife and child disappear on a vacation. Another is about the circumstances surrounding the transporting of Chopin's heart back to Warsaw. There are short essays on the psychology of travel, pilgrimages, flying at night and all sorts of encounters one has while traveling and visiting new places. It's a book to take on a trip, or one for busy readers to pick up and put down and pick up again later when motion for them has temporarily ceased. Recommended.
—Alice
READ because it's probably been a while since you've read something in translation, and this one's a winner.
PASS if, like Alice, you're currently busy traveling the world. (Miss you, sister!)
Order your copy on our website.
Adult Nonfiction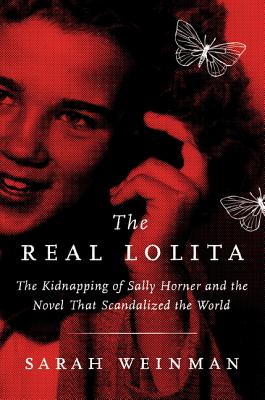 Mixing true crime investigation with literary criticism and history, The Real Lolita draws a parallel between Nabokov's masterpiece and the forgotten 1948 kidnapping of an eleven-year-old girl named Sally Horner. Weinman uses chilling details from the Horner case to illuminate a truth that has too often eluded readers and critics alike: Humbert Humbert, for all his erudition and greasy charm, is a monster, one of the most insidious villains in modern literature. Weinman weaves timely themes into her narrative; this book will change the way you read Lolita.
—Noah
READ if you're a fan of true crime, Nabokov, or both.
PASS if you haven't even read Lolita yet. (We know a way you can fix that.)
Order your copy on our website.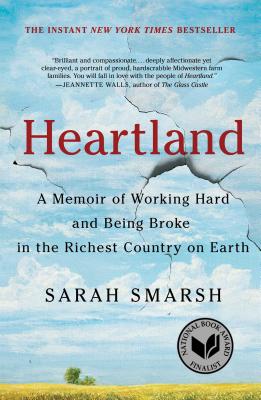 Written as a letter to an unborn child, Heartland dives deeply into the rural poverty that Smarsh's family has been a part of for generations. Strong women facing difficult odds raise Sarah. It's part memoir and part commentary on the cultural and monetary divide in middle America. Smarsh lays out succinctly how it is nearly impossible for people to "pull themselves up from their bootstraps" and how invisible they are to the privileged class. It's a must-read.
—Valerie
READ if you enjoyed Nickel and Dimed, Evicted, or Educated.
PASS if you wish to incur the wrath of Valerie—this is her pick for book of the year.
Order your copy on our website.
Get it signed at Sarah's event with us on September 20!