Book Bites: Bad Joke, Good Books
Submitted by Blue Willow Content on Thu, 08/03/2023 - 10:32pm
Q: Is that a hole in your bookshelf?
A: You'd better Patchett! (Sorry, sorry.)
It's true, though: There's a new novel from the one and only Ann Patchett gracing our shelves (but it would look much better on yours), plus fresh offerings from other fast favorites like Elizabeth Acevedo, Peter Heller, or Gillian McAllister. What are you looking for in your next book: A good family read-aloud? A graphic novel? Romantic banter? Family drama? An overlooked piece of history? You'll find all of that and more below. Read on!
---
Ages 4-8
Fiona wants to build a fairy house, so she gathers supplies and makes a plan in spite of her somewhat chaotic household. Full of whimsy and the power of belief, this picture book is a very fun read!
— Cathy
Read for the whimsy... and re-read for the dose of STEM!
Pass if you are suddenly focused on creating your own amazing fairy house.
Order Your Copy
Ages 8-12
Mexikid by Pedro Martin
A clever recounting of Pedro being raised in a large family — in which two-thirds of the kids were born in Mexico, while he and his remaining siblings were born in USA. As a child of a migrant farm worker from California, Peter (Pedro) shares about his feelings of growing up with a split sense of belonging. The crux of the story is an entertaining family roadtrip to Mexico with the goal of gathering their Revolutionary war-aged grandfather and bringing him back to live with them in the states. Family history is shared and made. A funny and touching graphic memoir that captures family ties.
— Liz
Read because this is a delightful adventure story with even more delightful illustrations.
Pass because you're getting flashbacks to your own family road trips. Slug bug!
Order Your Copy
Adult Fiction
A woman wakes up in Paris with no memory of who she is, people trying to shoot her, and a gorgeous man telling her to run. Turns out she's the twin sister of a spy who has stolen something really important from some really bad people — and everyone is after her. The propulsive plot will have readers on the edges of their seats, laughing, swooning, and gasping from one breath to another. This spy thriller rom-com is UTTER JOY to read! Do not miss it!
— Cathy
Read because what is there to dislike about romance, spies, and fun banter?
Pass if you are against UTTER JOY.
Order Your Copy
Attend Our Event with the author on August 12!
It has been two years since Amy was publicly humiliated after her drunk attempt at revenge on her ex-boyfriend. Despite her two years away from home, Amy vows to never return from London where she now produces trailers instead of proper films. As Amy feels that she will never reach the career point she was once at, she jumps at the unexpected competition at work. While she is just beginning to build her motivation, it slowly begins to tank again when her ex-boyfriend is brought in and decides her fate. Will she be able to convince Jake, her hot new neighbor who happens to want to write professionally, to help her in her revenge?
— Ayah
Read if you're a fan of Emily Henry or Annabel Monaghan.
Pass if you're planning out your own revenge scheme right now and can't get distracted.
Order Your Copy
Tara Connolly comes home to her brother, sister, and nephew after serving 18 months in prison on a drug trafficking charge. She loves them but there are so many issues facing them. And what is she to think about the fact that the police officer who put her away put money in her prison account? Her brother suffers from seizures brought on by a car accident which his father caused (before he ran from the family). Her sister is a hoarder and is not telling her boss at the bookkeeping firm the truth about her work. Brian Nolan, the police officer, has his own demons. But blood runs deep and they work through it and come out stronger.
— Valerie
Read because family drama in a book is much, much better than family drama in your family.
Pass if you avoid well-written books with deep characters.
Order Your Copy
Acevedo's first adult novel roars in with a full cast of characters. Four Dominican sisters have loved, lost, fought, and consoled one another their entire life. Flor has announced to her family that she is hosting a "living" wake. The sisters know that Flor "knows" the date of death for all that she meets. Does she know something she is not sharing? The novel is told over the course of the three days leading up to this event. Infused with magical realism, these now-aging sisters deal with their past and their present. The homeland looms large, as does their mother, Sylvia. The two daughters of the sisters also narrate their life stories. The scent of the food, the perfume, the sweat, and the streets infuse this intense family saga. And get ready to dance as the music flows.
— Valerie
Read because you love Isabel Allende, Julia Alvarez... or just Elizabeth Acevedo.
Pass if you never read about love, magic, or family. (Huh?)
Order Your Copy
Fourteen years following the murder of her sister, Greer has not returned home. This changes when she hears of a copycat murder and feels a pull to go back and help, as she tried to years ago. Not wanting to raise concerns, Greer hides her true intentions. However, things don't stay a secret in her small town, Ludlow. A twisty thriller that will keep you guessing!
— Ayah
Read because this is a book you'll stay up all night reading.
Pass if you have to wake up early.
Order Your Copy
In the spring of 2020, Lara's three adult daughters are home at the family cherry orchard in Northern Michigan. The girls want to hear about when their mom performed with a summer stock theater company called Tom Lake and briefly dated Oscar winning actor Peter Duke. They've heard parts of the story before, but with time to spare and cherries to pick Lara reveals parts of the story her daughters never knew. This beautifully written family saga details the current lives of the family as they are together due to the pandemic and prompts Lara's daughters to reexamine their understanding of the world they thought they knew.
— Barb
Read because Reese Witherspoon (book club pick!) and Meryl Streep (audiobook narrator) will be personally disappointed in you if you don't read this one.
Pass if you're not intimidated by the idea of upsetting Elle Woods and Miranda Priestly.
Order Your Copy
When a young woman goes missing, seemingly by disappearing into thin air down a dead-end alley, DCI Julia Day is reminded of a similar missing persons case, one she never solved. When she is suddenly blackmailed into framing someone for the crime in order to protect her daughter, that other cold case and all the events surrounding it come to light as Julia is in a race to find the missing girl, outwit her blackmailer, and keep her superiors off her trail. Another twisty mystery from McAllister that will leave you guessing until the very end.
— Aerie
Read because a twisty mystery is as fun to read as "twisty mystery" is to say.
Pass if you want to read McAllister's other fantastic thriller, Wrong Place Wrong Time, first.
Order Your Copy
Helene has come to Alaska to escape a terrible marriage and to finally finish her novel. When she walks into the bar, she comes face to face with Sebastian, the character she has written about so many times. How is this possible? He is her Romeo, she is his Juliet. Told many times over, this classic love story must have a better ending than the first. Skye cleverly evokes the Shakespearean tale while charming us with a contemporary love story.
— Valerie
Read because this is a fresh and romantic twist on the most famous love story of al time.
Pass if you're too firmly entrenched in your "I hate love" phase.
Order Your Copy
In 1943, Eva Brunner lives with her father and brother in Austria, photographing and cataloging works of art from across Europe that are secretly being stored in the local salt mine. She is sent to continue this work with the vast treasures in Florence, Italy, for the German Art History Institute and finds herself arriving right around the same time the Italians surrender and the city is caught between the Nazis, the Allies and the Fascist fighters. The Institute's objective shifts to protecting the art from the Allies, whom they are told will be looting and destroying all in their wake. Across the pond, Josephine Evans works as a secretary on the Yale campus, feeling trapped and bored until her friend convinces to her join the Women's Army Corps and contribute directly to the war effort in Europe. Jo is assigned as a typist to an American commander in Italy who is tasked with identifying and locating all the priceless art that has been hidden, damaged or stolen by the Nazi regime. The women—Eva and Jo—are two sides of the same coin in a female-centered story of the Monuments Men of WWII.
— Jennifer K
Read because this has women protagonists, history, art...what is there not to love?
Pass if you don't enjoy reads that draw you in on page one.
Order Your Copy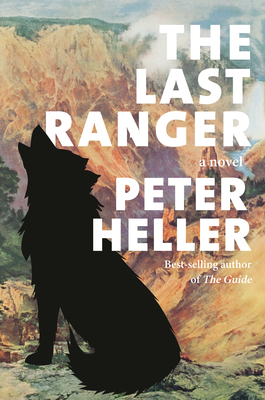 The Last Ranger by Peter Heller
Ren is a park ranger in Yellowstone National Park. He enjoys the solitude, the closeness with nature, and small town feel of the locals, while enduring the tourists that sometimes ignore the rules and have to be saved from their own idiocy. He is close friends with Hilly, a biologist renowned for her studies on wolves in the park. When Hilly begins to receive threats, Ren starts to keep a close eye on a local poacher who has had some trouble with the law in the past. One day he finds Hilly nearly frozen to death and trapped in a bear trap. His investigation into the crime leads him to a rogue group of wealthy ranchers lobbying to return the park to public lands open for hunting, and an uneasy truth about the modern wild west.
— Aerie
Read if you're looking for an immersive, beautiful and unexpected story.
Pass if you're waiting until your next camping trip to bring this book along.
Order Your Copy