Anne Bogel on the Magic of Books
Submitted by Blue Willow Dig... on Tue, 09/18/2018 - 10:56am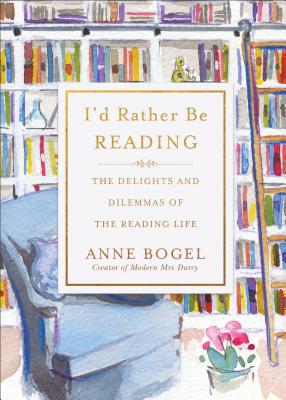 Anne Bogel is an author, blogger, and podcast host. You may know her from her blog, Modern Mrs Darcy, where she writes about modern womanhood, often through the lens of great literature. Her podcast, What Should I Read Next?, packs a plethora of book recommendations spanning all genres. But above all, Anne's a reader. Her new book, I'd Rather Be Reading, was just released this month, and is the perfect gift for your favorite bibliophile. Books after all, are a way of life. We can't wait for Anne to visit the shop on Wednesday, September 26 at 7 PM to discuss her book (and books in general). In the meantime, check out Valerie's Q&A with Anne below!
---
Valerie Koehler: I believe you are my long lost sister. Is it possible we were separated at birth even though you were born my freshman year in college? You had me at Garden Spells, a book that spoke to me and that I always have on the shelf to sell to the person who needs a little magic in their lives. Can you tell us about that visceral reaction to a great book feels like?
Anne Bogel: It makes me so happy to find a fellow Sarah Addison Allen lover! There are some people you can know for years and never quite feel like you really know them; other people feel like old friends after just a short time. So it goes with books. There are some books we immediately understand, and that make us feel understood. It's a great feeling.
VK: You spend time on shelf organization. At one time I did, too, but I gave up on it some time ago. Why do you think people enjoy organizing their shelves?
AB: There are two reasons readers love organizing their shelves. The first is purely practical: devoted readers need to put their hands on the right book at the right time, and they need to know where to find it. They want to organize their books in a way that intuitively makes sense so this is possible. The second is pure pleasure. Some people scrapbook, or crochet, or climb mountains in their spare time. Readers organize their bookshelves, just for the fun of it.
VK: I know you are sending along a list of some of your favorite reads so we can create a display for your visit. Sneak preview?
AB: Rules of Civility, Americanah, This Is How It Always Is.
VK: Finally, please tell me if you have read my favorite Kentucky writer, Silas House? I know you've read Wiley Cash. You mention Joshilyn Jackson. Have you read Sharyn McCrumb? Can you tell I have an obsession with the Appalachian Mountains?
AB: I love Silas House, and I was terribly disappointed at this summer's ironic turn of events: he was in MY town launching his new book while I was in Florida, where half of it was set! I just read my first (but not my last) Wiley Cash this year; I think Joshilyn Jackson is the bee's knees. I sat with Sharyn McCrumb at an author dinner several years back but haven't read her work. Tell me where to start!
VK: Hurry up and get here so we can talk books!
AB: With pleasure! I've heard such great things about Houston and Blue Willow and can't wait to see for myself.
Books:

$14.99

ISBN: 9780801072925
Availability: Usually Ships in 4-7 Days
Published: Baker Books - September 4th, 2018
For so many people, reading isn't just a hobby or a way to pass the time--it's a lifestyle. Our books shape us, define us, enchant us, and even sometimes infuriate us. Our books are a part of who we are as people, and we can't imagine life without them.

---