Antwan Eady, Gracey Zhang, and Editor Mabel Hsu Discuss the Making of NIGEL AND THE MOON
Submitted by Blue Willow Dig... on Mon, 01/24/2022 - 1:20pm
Every so often, we come across a picture book that we just know is going to be an instant classic. One recent example is the beautiful Nigel and the Moon, written by debut author Antwan Eady and illustrated by Gracey Zhang. It's a timeless and lovely depiction of a child's courage to dream, with poetic text and evocative ink, gouache, and watercolor illustrations. With its themes of self-acceptance and dreaming big, we know it will inspire young readers for many years to come.
We're so excited to welcome Antwan and Gracey to our virtual Bookworm Festival next Thursday, where they'll appear alongside Meg Wolitzer in a conversation moderated by Jarrett Pumphrey (The Old Truck). You can register for their session and peruse the rest of our Bookworm Festival programming from this page. In the meantime, check out our conversation with Antwan, Gracey, and editor Mabel Hsu below!
---
Blue Willow Bookshop: Antwan, congratulations on Nigel and the Moon! The story is just beautiful. What was the inspiration for this book?
Antwan Eady: Thank you so much! Thank you for having us. Nigel and the Moon is a story about a young boy who's afraid to tell the world his dreams, so he tells them to the moon at night. It's a journey of Nigel discovering his dreams and finding his voice. I was inspired to write this story because I was Nigel.
But I was also inspired by my grief. While grieving children we've lost and those taken from us, writing Nigel was my way of processing that grief. In short, I wanted to give the youth a place where their dreams could live forever.
BWB: We're curious about your collaboration with Gracey Zhang, the illustrator. Did you include notes to her with the manuscript? What was your reaction to Gracey's illustrations?
AE: Love this question! I don't recall providing illustrations at all… maybe one. I knew I wanted a scene where Nigel was on the moon. The visual storytelling that's in this book is a testament of Gracey's brilliance. She's incredible. From sketches to final art, I cried every time an update was sent to me. I cried when I saw Nigel. I cried when I saw his parents… their love for him. I cried when I saw the Career week surprise at the end of the book. I cried so much because Gracey captured magic… on her own! I can't thank her enough for saying yes to illustrating Nigel. She took the text above and beyond my wildest dreams.
BWB: Gracey, your illustrations are absolutely gorgeous. How did you approach illustrating this manuscript?
Gracey Zhang: Thank you! Antwan's writing brought me such a sense of buoyancy and imagination while also sitting in a very grounded environment. The first thing I did after reading it was go exploring on Google Maps and taking as many reference pictures as possible. I found certain real life locations (such as the library Nigel visits and his school) to use as a baseline and then explored the neighbourhoods between. What stood out to me most was how many of the homes had older peeling paint and I wanted to the paintings to reflect that sort of baked in the sun look.
BWB: Did anything throughout the process of illustrating this book surprise you?
GZ: Researching images and finding parts of Savannah that are more than the southern gothic settings you see in a lot of books and films. And though this isn't a surprise, just how much I wished I could fly and speak to the Moon!
BWB: Mabel, we know so many wonderful stories must come across your desk. What made you want to publish Nigel and the Moon?
Mabel Hsu: I see a lot of books about "dreaming big" in my submissions, but this was immediately different. Nigel and the Moon acknowledges that not everyone's dreams are as easy to say aloud. Antwan's text recognizes the keen social awareness that kids have as we compare ourselves to our peers, but never veers preachy. Instead, it talks up to children and helps to gently reframe a perspective. I had a call with Antwan afterwards and we just clicked. This was someone who had studied picture books on his own, who had a hunger to learn more, and had a bone-deep passion and respect for the all the craft that goes into these books. Those are exactly the kind of creators I want to work with.
BWB: How did you choose Gracey Zhang as the book's illustrator?
MH: Well, this is a little funny story. When Gracey went out with her brilliant debut, Lala's Words, I lost that auction to editor Kait Feldmann. I was heartbroken, jokingly declared Kait my editorial nemesis… until she reached out through a mutual friend and we became enemies-turned-friends-turned-colleagues. But! I never, ever forgot about Gracey. Her work stayed with me for a long time, and I was just waiting for the right manuscript to come across my desk that I could hope to approach Gracey with. Gracey has a gorgeously unique style with her loose brushstrokes and incredible character detail. There was a literary feel to the text and I wanted an artist who could bring in a fresh classic look—and ultimately, we were very lucky that Gracey agreed to come onto this project with us.
BWB: Antwan and Gracey, Nigel and the Moon is all about dreaming big. What's your dream for this book?
AE: Beautiful question. My intention for Nigel and the Moon is to connect readers with narratives that they may not see in their daily lives. Can a Black boy be Superman? Can a Black boy dance ballet? Can he soar above the clouds? Above the stereotypes? Above the moon? Yes. Yes, to all the above.
So, I'd love for my book to reach areas similar to my hometown where bookstores don't exist. Where the nearest library is 10 miles away. I dream of Nigel and the Moon finding readers in the overlooked parts of our world.
GZ: That readers are able to find courage in themselves from Nigel's story and that they share their dreams with the moon (if they weren't already!).
Books: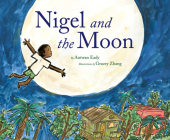 $18.99

ISBN: 9780063056282
Availability: On Our Shelves Now
Published: Katherine Tegen Books - February 15th, 2022
From debut author Antwan Eady and artist Gracey Zhang comes a glowing tale about the young dreaming big. A perfect story to demonstrate how pride in where we come from can bring a shining confidence.

When Nigel looks up at the moon, his future is bright. He imagines himself as…an astronaut, a dancer, a superhero, too!
---