Artemis (Compact Disc)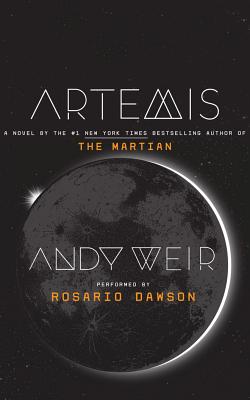 Staff Reviews
---
Jazz Bashara lives in the city of Artemis, which is on the moon. Yes, our moon. While there are thriving businesses in Artemis, tourism is a big part of the economy. Jazz is striving to become one of the revered EVA masters who give pricey tours to those who pay to go outside. But in the meantime, she is getting by with odd jobs and smuggling. Her master-welder father is constantly frustrated by her lack of ambition and follow-through in spite of her knowledge and intelligence. So to get herself out of yet another financial hole, Jazz takes a risky job that pays a whole lot of money. Too good to be true, right?
Andy Weir, author of the popular novel The Martian (and Matt Damon movie of the same name), comes up with a new book that is science-y, funny and thrilling. Jazz is brave and scrappy like Rey from The Force Awakens but maybe a little less noble. Nonetheless, you'll be rooting for her as you're biting your fingernails. After all, any wrong move or bad decision can mean death—not just from bad guys but from the Earth-unfriendly elements too.
— Cynthia
November 2017 Indie Next List
---
"Jazz is a porter on Artemis, the only city on the moon, and her job is supplemented by smuggling minor contraband into the city. When she gets involved in a bigger game with a much bigger payout, she is not ready for the lengths to which others will go to get their own payday. Amidst murder, corporate sabotage, and the Brazilian mafia, the moon's crisis brings Jazz to a new perspective: She must be a better person than she has ever been if she and Artemis' society are to survive. Weir has created a great, sarcastic character who will be loved by fans the world over, and a cool and engaging book that is a worthy successor to The Martian."
— Raul Chapa, Book People, Austin, TX
Description
---
The bestselling author of The Martian returns with an irresistible new near-future thriller--a heist story set on the moon.
Jazz Bashara is a criminal.
Well, sort of. Life on Artemis, the first and only city on the moon, is tough if you're not a rich tourist or an eccentric billionaire. So smuggling in the occasional harmless bit of contraband barely counts, right? Not when you've got debts to pay and your job as a porter barely covers the rent.
Everything changes when Jazz sees the chance to commit the perfect crime, with a reward too lucrative to turn down. But pulling off the impossible is just the start of her problems, as she learns that she's stepped square into a conspiracy for control of Artemis itself--and that now her only chance at survival lies in a gambit even riskier than the first.