Crimes of the Father (Large Print / Library Binding)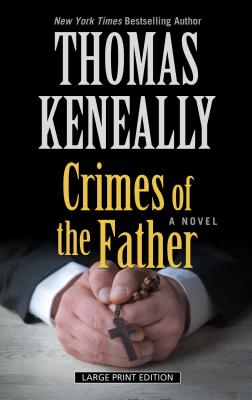 Email or call for price.
Usually Ships in 1-5 Days
Staff Reviews
---
Prolific Australian writer and Booker Award winner ( Schindler's List), Keneally in this novel tackles head on the issue of child sexual abuse within the Roman Catholic priesthood. His protagonist is Frank Docherty, a Catholic priest who was banished from the Sydney diocese in the 1970s for pushing his liberal social justice agenda too far for the established Church. He now lives in Canada where he is a psychology professor and priest. In 1996, on a trip home to visit his aging mother, Docherty steps right into the middle of a brewing controversy over an ongoing court case and potential new charges of past abuses by priests. The Church had previously endeavored to handle such cases internally, hoping to reach settlements with victims that would be face saving for the Church and would avoid civil litigation. But the scandalous behavior of child-abusing priests has, by the mid-1990s, been forced into civil courts. Although Docherty has come to Sydney to ask for reinstatement into the Sydney diocese, from the moment he steps into a cab at the airport and discovers that the driver is a former victim to his visit with old friends whose victimized son had recently committed suicide, he is compelled, as a psychologist, to encourage the victims to seek redress in both the Church and the court system. The novel reaches back to the 1970s to describe the principal characters' pasts and to fill in Docherty's own past relationships. Although this novel is not an anti-Catholic polemic, Keneally, a Catholic himself, does not hesitate to condemn those within the institution of the Church who seek to cover up the abuse with something less than Christian charity. Though his characters are well-written, I get the sense that they serve primarily as vehicles for Keneally's criticism of the Church hierarchy's approach to handling such cases. Recommended.
— Alice
Description
---
From one of our greatest living writers, a bold and timely novel about sin cloaked in sacrament, shame that enforces silence, and the courage of one priest who dares to speak truth to power. Sent away from his native Australia to Canada due to his radical preaching against the Vietnam War, apartheid, and other hot button issues, Father Frank Docherty made for himself a satisfying career as a psychologist and monk. When he returns to Australia to lecture on the future of celibacy and the Catholic Church, he is unwittingly pulled into the lives of two people--a young man, via his suicide note, and an ex-nun--both of whom claim to have been sexually abused by a prominent monsignor. As a member of the commission investigating sex abuse within the Church, and as a man of character and conscience, Docherty decides he must confront each party involved and try to bring the matter to the attention of both the Church and the secular authorities. What follows will shake him to the core and call into question many of his own choices. This riveting, profoundly thoughtful novel is "the work of a richly experienced and compassionate writer with] an understanding of a deeply wounded culture" (Sydney Morning Herald). It is an exploration of what it is to be a person of faith in the modern world, and of the courage it takes to face the truth about an institution you love.