Bajo La Misma Estrella: (The Fault in Our Stars) (Paperback)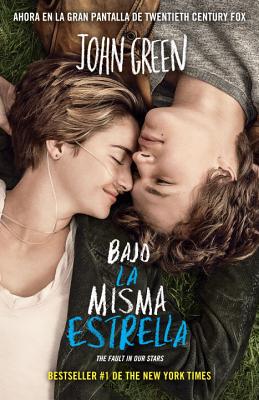 $12.95
Usually Ships in 1-5 Days
Staff Reviews
---
This is the story of Hazel and Augustus, teens who meet and fall in love in a cancer support group. By turns hilariously funny and heartbreakingly sad, their paths intersect and move forward. It was so interesting to read the book as both a mother and a daughter -- to feel the grief of Hazel's parents and to feel her desire to be a teenager, her frustration with her circumstances and her informed intelligence throughout it all. John Green's characters have such true voices -- and they celebrate smart teens. What a pleasure it is to read a book that reminds me why I love being a bookseller! For grades 8 and up.
— Cathy
Winter 2012 Kids' Next List
---
"A cancer support group might seem like an unlikely place to meet your true love, but for Hazel Grace and Augustus Waters the stars align and these two sweetly cynical souls find each other at an interesting moment in their lives. In a story brimming with mystery, humor, and lots of love, Hazel and Augustus show readers that life is made up of a million moments worth noticing -- much like a night sky filled with stars."
— Julie Wilson, The Bookworm, Omaha, NE
Description
---
Emotiva, ironica y afilada. Una novela tenida de humor y de tragedia que habla de nuestra capacidad para sonar incluso en las circunstancias mas dificiles.

A Hazel y a Gus les gustaria tener vidas mas corrientes. Algunos dirian que no han nacido con estrella, que su mundo es injusto. Hazel y Gus son solo adolescentes, pero si algo les ha ensenado el cancer que ambos padecen es que no hay tiempo para lamentaciones, porque, nos guste o no, solo existe el hoy y el ahora. Y por ello, con la intencion de hacer realidad el mayor deseo de Hazel --conocer a su escritor favorito--, cruzaran juntos el Atlantico para vivir una aventura contrarreloj, tan catartica como desgarradora. Destino: Amsterdam, el lugar donde reside el enigmatico y malhumorado escritor, la unica persona que tal vez pueda ayudarles a ordenar las piezas del enorme puzle del que forman parte... Rebosante de agudeza y esperanza, Bajo la misma estrella es la novela que ha catapultado a John Green al exito. Una historia que explora cuan exquisita, inesperada y tragica puede ser la aventura de saberse vivo y querer a alguien.
About the Author
---
John Green nacio en Indianapolis en 1977, y se graduo en Lengua y Literatura Inglesa y Teologia de Kenyon College. Tras iniciar su carrera en el mundo editorial como critico y editor, ha sido galardonado con el Premio de honor Printz y el Premio Edgar por sus diversas novelas para el publico juvenil. Con su ultima novela ha demostrado su capacidad para emocionar a lectores de todas las edades y se ha convertido en uno de los autores mas vendidos del ano. Bajo la misma estrella ha sido recibida por la prensa con un aluvion de criticas entusiastas y permanece en lo mas alto de las listas de ventas en Estados Unidos desde su publicacion.
Praise For…
---
Elogios para Bajo la misa estrella...
"Una mezcla de melancolía, dulzura, filosofía y humor". —New York Times
 
"Una novela imposible de olvidar". —USA Today
 
 "Absolutamente genial". —Time
 
"John Green aúna lo profundo y lo cotidiano en esta desgarradora novela". —Washington Post
 
"Una historia dolorosamente bella sobre la vida y las pérdidas". —School Library Journal
 
"Esta novela es un triunfo". —Booklist
 
"Lleno de repentinos golpes de humor y tragedia, Bajo la misma estrella da una vuelta de tuerca a preguntas universales como '¿Alguien me querrá?' '¿Me recordarán?' '¿Dejaré alguna huella en este mundo?'". —Jodi Picoult, autora de La decisión más difícil
 
"Una novela repleta de esperanza, fuerza e inteligencia, con unos personajes memorables y unos diálogos que te harán reír, llorar y emocionarte". —Javier  Ruescas, autor y blogger