The Vanderbeekers of 141st Street (Hardcover)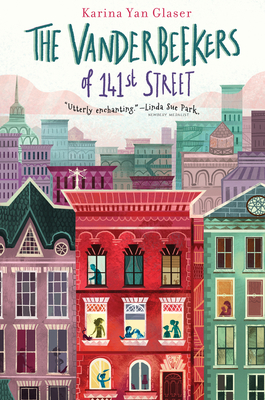 Staff Reviews
---
The Vanderbeeker family—two parents, five kids, a dog, a cat, and a bunny—lives on the ground and first floors of a brownstone on 141st Street in Harlem, New York. They freely admit that their home is never calm, tidy, boring, or predictable, but they dearly love the only home and neighborhood they've ever known. Their Scrooge-like landlord Mr. Beiderman, whom the kids avoid at all costs, lives on the top floor and has decided not to renew the Vanderbeekers' lease. When the kids find out five days before Christmas, they immediately implement Operation Beiderman to change his mind with comic and disastrous results. Readers in 3rd grade and up will want to move into the Vanderbeekers' neighborhood. Sure to become an instant classic!
— Jennifer
Description
---
The Vanderbeekers have always lived in the brownstone on 141st Street. It's practically another member of the family. So when their reclusive, curmudgeonly landlord decides not to renew their lease, the five siblings have eleven days to do whatever it takes to stay in their beloved home and convince the dreaded Beiderman just how wonderful they are. And all is fair in love and war when it comes to keeping their home.

A modern classic in the making reminiscent of the Penderwicks series, The Vanderbeekers of 141st Street is about the connections we make and the unexpected turns life can take.